Out Of Your Mind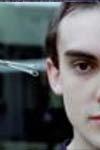 Show type: Edinburgh Fringe 2003
We never forget. Hidden in our brains is every thought we've ever had, locked away and helpless. Improvised comedy and medical science combine on a voyage to get t
Comedians
Reviews
Original Review:
This improvised show starts and ends with a four-strong team of 'scientists' purporting to analyse the thoughts of an audience member, unleashing a stream of psychobabble. The interaction also generates a few words - in this case, cake, animal and hat - to be incorporated into an improvised play.
Set in the Second World War, the narrative follows the lives of a soldier, a French refugee and a woman leaving her husband, partly accompanied by a doleful keyboard soundtrack.
The stories are enthusiastically played but disjointed and nonsensical, which is understandable if, as the actors claim, they are completely spontaneous.
But the dialogue is so slick and the production so seamless, even down to scene changes, that you suspect a lot of this has been rehearsed. The four did, however, manage to incorporate the key words chosen by their initial volunteer.
Out Of Your Mind's one saving grace is the story featuring the estranged husband and wife (both played by men), which is oddly moving. But still not enough to recommend the show.
Comments
Show Dates