God Inc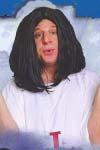 Show type: Edinburgh Fringe 2003
Emmy winning comedian Paul Wagner plays 41 characters in this riotous high-tech, multi-screen comedy, skewering corporate America, war and religion in one hilarious stroke. A comedic tour-de-force.
Comedians
Reviews
Original Review:
This over ambitious show seemed doomed from the outset, thanks to a 35 minute delay in starting. And when it did get under way, the performance was completely impersonal, with no acknowledgement of the audience's presence.
Paul Wagner, a convincing actor, instead addressed only his characters, a series of shallow American stereotypes projected onto a screen: Bill Gates type geeks, Forest Gump type simpletons and Jewish type 'yadda, yadda my boy' type money-grabbers. References had little imagination and left the audience shifting uncomfortably in their seats.
Paul is a talented performer, but this format so obvious doesn't work on many levels. The American sports commentary and portrayal of Catholicism is universally accessible and the 'Tickle me Jesus' doll was amusing, but treading the well-worn boards of religion left some of the audience with no option but to walk out.
Did I want to leave, too? Well, is the Pope Catholic?
Comments
Older Comments
Show Dates