The Kama Suture: The Cambridge Medics Revue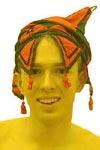 Show type: Edinburgh Fringe 2002
Following their 2000 success with On Her Majesty's Secret Cervix, the medics return with a fresh new revue, fast-paced and slick and packed with non-medical comedy
Comedians
Reviews
Original Review:
Not only are the great majority of sketches in this lacklustre revue unfunny, but they are so removed from very basics of humour that it's often impossible to tell where the gags were even supposed be.
One can only assume is that when the stage suddenly blacks out, that it is supposed to mark some sort of punchline. It's usually the only clue the bemused audience will get that something 'comic' has occurred.
Their choice of subjects is often tired - tampons, the Gladiators game show, cramped Tube travel - and most skits comprise entirely of set-up, with no pay-off.
Just two items redeem this otherwise meritless show - a silly mime of the Lemmings computer game, and a recurring parody of the Jabberwocky story.
But the PC reference bypassed most of the audience, which was dominated by a generation older than the performers, and even the Carroll sketch couldn't find a conclusion - ending instead with a random act of violence, always the last resort of the desperate writer.
It's all performed in the unnatural, stagey acting that is almost a student revue cliché - and ends with the usual show-off song that really grates.
They may be medics, but they can't find the funny bone.

Comments
Show Dates