The Funjabis: Lovin A Sorna Gora (Lovin A Nice Whi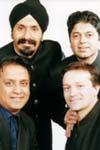 Show type: Edinburgh Fringe 2002
Britain's only Asian comedy group use stand-up, sitcom, songs and sketches to tell the story of the tight-arsed Mucky Singh's struggle to get his fifth daughter married in the cheapest possible manner!
Comedians
Reviews
Original Review:
The signs don't look good when one of the first jokes in a show is: "I've just spent three weeks in India - a week in Delhi, a week in Bombay and a week on the toilet."
Things do get a bit better during the Funjabis' latest offering Lovin' A Sorna Gorna (or Loving a Nice White Boy) - but not much.
Subtlety is not the Asian group's watchword - instead we get broad, unsophistcated revue-style comedy.
They are certainly exuberant performers, but there is often the feeling they are trying too hard to desperately inject some life into obvious and not particularly funny material. The central character of 'Mucky' Singh, especially, shouts out his lines with all the delicate nuances of a football chant.

The set-up for this tale is potentially interesting - the well-spoken white boy trying to fit in with the Asian community of Southall because he has fallen for an Indian girl is classic fish-out-of-water sitcom material.
But here it's just a fragile excuse to move from one over-the-top sketch to another. Instead of story, we get laboured puns, only a couple of which fall into the so bad they're good category, and a determination to sink to the lowest common denominator, where an extended sound effect of someone pissing considered hilarious.
There are some moments of good humour, and the Bollywood-style songs prove an effective way of combining the group's over-zealous performances and brash writing.
But mostly the Punjabis hope their pantomime energy will act as a substitute for real wit - which it doesn't.

Comments
Show Dates