Slovin and Allen: The Imperial Highway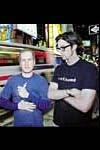 Show type: Edinburgh Fringe 2002
A comedy duo from New York City, combine a traditional vaudevillian sensibility with their unique brand of anarchic absurdity. The 'Imperial Highway' exhibits Slovin and Allen's desperate attempt to participate in every play known to man.
Comedians
Reviews
Original Review:
This adventurous New York-based duo have produced a clever, innovative and brilliantly funny show.
By subverting the conventions of comedy, they genuinely wrong-foot the audience, harvesting laughs from every unexpected twist.
They are into wordplay - not puns, but actually playing with language, as well as the form and structure of comedy.
Don't worry if that sounds a bit poncey - there are also lashings of stupid slapstick too. And it's all underpinned with a neat satirical thread on festivals and awards.
In fact, there are few comedy styles they don't employ, and each is given a fresh and original slant, with unfailingly fantastic results.
This anarchic mixture of sketches and double-act banter is so offbeat, it's often difficult to pinpoint exactly why it is funny. But funny it undoubtedly is.
Some of the skits do take a little time to build up steam, but that only fuels the hilarious pay-offs. And they have perfect timing - the pair even have the digital clock to prove it.
Something of an undiscovered treasure, the lads aren't attracting the audiences their assured brilliance deserves. But this is a real treat of a show - different, funny and warm - and if there's any justice this talented duo won't remain unknown for long.

Comments
Show Dates