Robert Llewellyn: Woman Wizard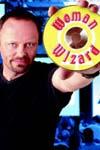 Show type: Edinburgh Fringe 2002
Kryten from Red Dwarf and star of Scrapheap Challenge, Robert Llewellyn presents a stand-up software launch for WomanWizard, a complex program to enable men to understand women, and a simple program for women to understand men. Software has never been so funny.
Comedians
Reviews
Original Review:
Men and women are different, apparently. And this less-than-astonishing premise forms the basis of Llewellyn's latest show.
The Red Dwarf robot has tried to lend things a modern twist, constructing his material around the premise that there's software that simulate the male-female interaction to help avoid unwanted outcomes, but it fails to inject any new life into the idea.
Sadly, the execution is flawed in so many ways that it defies description. The writing is limited and, in the appropriate parlance, riddled with bugs.
At its core, the old and lazy idea that men and women are fundamentally incompatible remains unchallenged as Llewellyn expounds his tired thesis and though he is evangelical about his message, Llewellyn simply can't manage to push the envelope. Message undelivered.
His relentless reminders of his role in Red Dwarf are also tiresome, and he makes no less than ten references to his 'good friend', Craig Charles. We are all as impressed as the technician who fell asleep during the performance Chortle saw.
This unlikely star prompted an excellent performance from his colleague whose attempts to wake him were exhaustive and imaginative in a way that the show was clearly not.
Llewellyn espouses the theory that women are more complex than men, baltently pandering to half the audience, but equally relying on the same old 'men are stupid and insensitive cliché that is always trotted out.
This is a thoughtless and unintelligent position to take on stereotypes, and the show never progresses beyond portraying women as hysterical, incomprehensible and weird creatures, and men as hapless, misunderstood and obvious buffoons.
Obviously neither of these things are true, but Llewellyn is not interested in anything innovative or challenging.
Woman Wizard certainly isn't magic.
Comments
Older Comments
Show Dates