FairLy Tales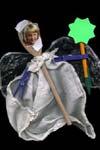 Show type: Edinburgh Fringe 2002
The improvised story-telling show. Words supplied by the audience become seeds for stories never told before or since. Funny stories. Moving stories. Exiting stories. A different collection every time.
Comedians
Reviews
Original Review:
Only on the fringe would people pay good money to see a man with a towel on his head pretending to be a heap of baked-bean-soaked washing-up. And enjoy every minute.
That scene was just one of many delightful images conjured up by the talented cast of the improvised storytelling show FairLy Tales yesterday,
Sitting somewhere in the Venn diagram overlap of comedy, theatre and kids' entertainment, this is 11.45am show is a magical, entertaining and family-friendly way to start the day.
The four performers weave a number of magical stories from words chosen at random from the dictionary or that day's crossword solutions.
There are several games, performed individually or as a team, sometimes straight stories, sometimes illustrated with props or sound effects pulled from their dressing-up box.
Such is the nature of an ad-libbed show that a couple of the tales didn't really come off. But when they did work, as the vast majority did, they created imaginative images and esoteric worlds from the most unlikely of sources.
Though not listed in the fringe programme's comedy section, FairLy Tales is warmly funny - and many of the yarns spun reduced the technician and cast members sitting out that scene to laughter. A clear indication of the genuinely improvisational nature of what was being created.
In this particular show, we treated to the aforementioned washing-up, having faith issues with the woman who created it, a woman 'of a certain age' auditioning for Pop Idol, and a shaggy dog tale about mushrooms, toilet paper and a 1920s nationwide crisis that explains why Ipswich is the toilet of Britain.
There's clearly a creative, surreal strand running through, and it never sacrifices narrative threat or genuine, warm humour for a gratuitously bizarre non-sequiteur. This is all about storytelling, after all, and it's brilliantly done. Worth getting up in the morning for.
Comments
Show Dates