Club Mozart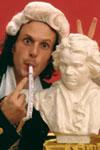 Show type: Edinburgh Fringe 2002
Comedian, musical guru and star of his own series on Radio 4 and Classic FM, Rainer Hersch returns for another symphonic dollop of tentertainment. What did Mozart steal from Abba? What are they singing about at the opera? It's all here plus stand-up, synthesisers, a didgeridoo, slides and piano playing like you have never heard.
Comedians
Reviews
Original Review:
By his own admission, Rainer Hersch's unusual appearance - half David Essex, half a young George Cole - is in a stark contrast from what people generally expect for what, on the surface, looks like a high-falutin show.
But Club Mozart is far from erudite, and Hersch's self-deprecating determination not to take himself too seriously easily endears him to any audience.
He employs his obvious musical training to great effect, toying with classical pieces and demonstrating how he can seamlessly switch between Beethoven and Abba and how jungle, house and garage music can be played with classical discipline.
Amid this eclectic medley, Hersch also proves a dab hand at non-musical comedy and litters his monologue with wordplay, one-liners and stand-up gags.
Some are admittedly glaringly obvious, but Hersch is not trying to hoodwink the audience into believing that he is anything other than a personable musician who endeavours to entertain.
The show flows well, and considerable thought and effort have clearly gone into it, perhaps because Hersch was so keen to convince the crowd that he is a thoroughly nice guy.
It did feel a little too long, which detracted from the considerable talents on display, but otherwise this certainly underpinned the niche that Hersch has carved for himself.
Comments
Show Dates