Count Arthur Strong's Forgotten Egypt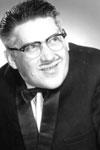 Show type: Edinburgh Fringe 2002
The remarkable Count Arthur delivers an instructional talk on the mysteries of Ancient Egypt - with spectacular slide show! The Sphinx! Sir Elgin Marbles
Comedians
Reviews
Original Review:
This character piece is a fine showcase for Steve Delaney's talents, as his famed Egyptologist declines from a slightly eccentric old-timer into a full-scale alcohol-fuelled breakdown over the course of the hour's show.
The last ten minutes are quite splendid, as Count Arthur rails against the world that is collapsing around him - combining the manic aggression of Basil Fawlty with the hopeless despair of Johnny Vegas.
It's a wonderful performance, as the subtle tics become increasingly violent and he curses his unseen understudy, attacks the props and berates life in general.
But the show does seem quite drawn-out, with the character not quite complex enough to fill the timeslot.
Before his ultimate collapse, Strong's humour comes from his absent-mindedness, his maladroit metaphors and his Tourette's-like outbursts at various imagined demons.
This can be very funny, and it is brilliantly executed, but the comedy is simply too limited to be sustained for the entire duration.
It's a shame, as Count Arthur has the potential to be a great comic creation - just in smaller doses.

Comments
Older Comments
Show Dates