Those Meddling Kids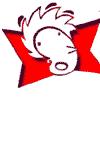 Show type: Edinburgh Fringe 2001
LA improvisational group hits Edinburgh. No script. No safety net.
Comedians
Reviews
Original Review:
This LA-based all-singing, all-dancing troupe purports to be an improv group.
Yet when it came to choosing a genre, the audience were forced to pick from a distinctly limited handful of subjects, including Chekov, Shakespeare and film noir.
And when they plucked a punter from the audience, he seemed suspiciously like the younger brother of one of the cast members.
Their two mini-plays were well-executed, however, with other audience suggestions neatly slotted into well-prepared openings.
The cast, a talented bunch (particularly the striking actress who played The Fool) entertained for 90 minutes, but it was clear that the show was a tightly-rehearsed affair, rather than the completely improvisational masterpiece they would have you believe.
Comments
Older Comments
Show Dates