Eric and Derek's Late Night Variety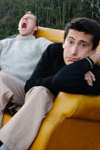 Show type: Adelaide Fringe 2007
The Canadians are back presenting a night of comedy with local and international guests. Using their savvy wit and slick hosting style, this show is a variety of monologues, interviews, music, sketches, video, stand-up & improvised scenes as only they know how! Think Letterman hosting Thank God You're Here!
Comedians
Reviews
Original Review:
It might seem an odd criticism of a largely improvised show, but Eric and Derek's Late Night Variety needs a lot more preparation.
While the Canadian duo occasionally hit home in this improv-meets-talk-show, the event was too flabby and unfocussed to fully realise its potential.
Eric and Derek hosts with an old-fashioned vaudeville style, relentlessly wisecracking in the hope that some gags land. And when they don't (as happened very often) they make a joke of that, too, ably assisted by a rim-shot or sax blast of their two-piece band.
In their opening monologue, they try to be topical and local, with plenty of references to what's going on in Adelaide, though the laughs often come at their failure to really care what happened here. They got by on cheesy chutzpah, but only just.
First guest of the night was Justin Hamilton, who told an entertaining tale from his stand-up set of an embarrassing misunderstanding with a gay man on a flight. With no cheap shots, it demonstrated this local comic's skills as a storyteller.
After a brief bit of banter, Eric and Derek improvved a scene from Hamilton's childhood, to reasonable effect – mainly down to their guest noting the accuracy or otherwise of the situation by tinging a bell or honking a horn. But after this, he was left awkwardly on the couch for the rest of the flabby 90-minute show with nothing to do.
A decent filmed sketch followed, then the second guest - a street magician with a card trick that might persuade you to part with a dollar or two if he was busking, but seemed out of place in a stage setting.
This was when the wheels started to come off the show. Magic Brian just wasn't a strong enough guest, holding little interest for the audience, and the hosts seemed to know it. 'Have you got any brothers or sisters?' they asked, desperately, grasping at straws for any sort of conversational gambit.
It lead to another improvised scene from his childhood, but second time around the returns were definitely diminished.
Reviewed by: Steve Bennett
Adelaide, March 2007
Comments
Show Dates