Des Bishop: Fitting In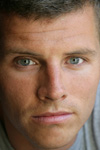 Show type: Adelaide Fringe 2007
This New Yorker arrived in Ireland as a mixed-up teenager 15 years ago and is now one of the country's most popular comedians. In his Australian debut, Des promises a 'mind-blowingly funny' look at attitudes towards immigrants, poverty, cancer, and life in general.
Comedians
Reviews
Original Review:
He may be something of a star in Ireland, thanks to his successful documentary-style TV shows, but on the other side of the planet, Des Bishop is struggling to find an audience, attracting just 30 or so punters to a cinema's converted projection room.
But Adelaide doesn't know what it's missing out on, as Bishop's three-pronged tales of 'displacement, cancer and faith' are well worth hearing.
For Bishop, Fitting In is something of a 'greatest hits' package - and why not? No one here knows him or his work… as the box office figures so conclusively prove.
First up, displacement. Bishop was born in New York, but sent away when, as a young teenager, he was thrown out of school because of a serious problem with drink. And where would you send someone to get them off drink? Ireland. It's rather like trying to set a racist straight by sending him to Robert Kilroy-Silk.
Bishop has plenty of fun with national attitudes to his teetotalism, from the States where sobriety is to be celebrated, to Ireland where it is to be treated with suspicion. Comedically fairly straightforward, this section is lifted because Bishop is talking of his genuine experiences, and has substantial performing abilities.
His delivery is excellent, as he powers though his material with passion and verve. He can have quite a lot to say, but it's driven through quickly and clearly, making sure the punchlines lose none of their impact.
The bulk of his show covers the testicular cancer he was diagnosed with in 2000 – and ironically enough serves, in part, as a public health announcement for men to take the topic seriously.
Bishop manages to do this while treating his own experiences with a lightness of touch and a welcome honesty, describing his progress from initial suspicion to the eventual surgery to have 'Lefty' removed, and the psychological impact that had.
It may sound glib, but there's nothing like the shadow of death to give comedy an edge, and the seriousness of the topic provides the opportunity for plenty of dark humour – plus knob gags (or at least ball gags) to boot. What better combination could there be? And the mix is expertly handled.
The third part of Bishop's triptych is faith – which essentially means he's covered the three main tenets of comedy: sex, religion and booze. It was to a Catholic boarding school that he was sent as a wayward youth – and one run by a paedophile priest at that. No wonder his image of organised religion is tainted, a disillusionment he again skilfully recounts.
He might have lost his faith, his booze addiction and his testicle – but en route Bishop's gained a lot to joke about, and all the tools to do so.
Reviewed by: Steve Bennett
Adelaide, March 2007

Comments
Older Comments
Show Dates