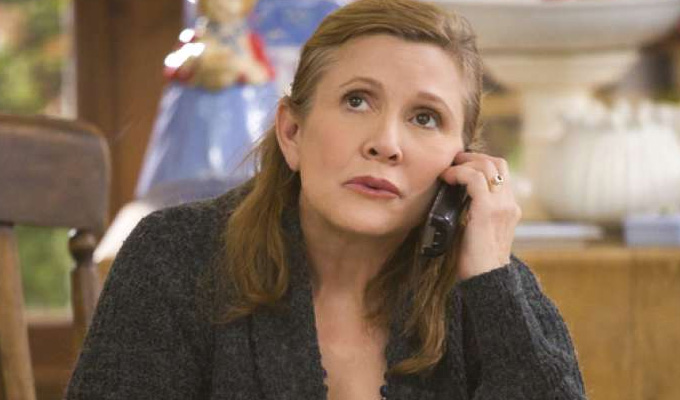 One of Carrie Fisher's final roles to be aired
Sky TV is to air one of Carrie Fisher's last roles.
The Star Wars and Catastrophe actor will appear in a new comedy series called Urban Myths, recreating remarkable stories which may or may not have happened in real life.
Fisher, who died on December 27, four days after suffering a heart attack on a flight from London to Los Angeles, appears as a diner waitress in the second series, which is due to air in April.
Her episode recreates a bizarre road tip Michael Jackson, Elizabeth Taylor and Marlon Brando are said to have taken from New York to Ohio in an attempt to get home following the 9/11 terrorist attacks.
The half-hour episode was written by Neil Forsyth, who also created comedy character Bob Servant.
Royle Family star Ralf Little, who co-produced the film with Zoe Rocha, tweeted: 'It may be a tiny role, but Carrie did it because it sounded fun and interesting, exactly like she was.'
Elizabeth, Michael & Marlon. has previously attracted some controversy for casting a white actor, Joseph Fiennes, as Jackson. When his role was announced, Shappi Khorsandi tweeted: 'Joseph Fiennes is playing Michael Jackson? Fab. Now we can all shut up about lack of diversity.'
But the actor said: 'I was shocked that they would come to me for the casting. You have to ask them as to why they would want to cast me.
'I felt this was a wonderful challenge, I read the script and it's very funny. It's a sketch about a story that could have been a legend or could have been true. So we'll see what the audience make of it."
Grease actress Stockard Channing and Brian Cox – who played Servant in the BBC series – also star.
The first series of Urban Myths starts on January 19, with the story of Bob Dylan, who decides to play an impromptu visit to his friend and fellow musician Dave Stewart at home. But he gets the wrong house, and it turns out to be the home of Dave Stewart the plumber – and massive fan of Dylan's
Paul Ritter stars as Dave and Katherine Parkinson as his wife Ange (pictured below in the role), with Eddie Marsan as Dylan. It is written by Neil Webster, who recently produced Morgana Robinson's series The Agency.
The other episodes in series one are:
Samuel Beckett and Andre the Giant: In which the playwright chauffeurs the future wrestler to school. This too is written by Neil Forsyth and stars David Threlfall as Beckett.
Hitler the Artist: Iwan Rheon plays the young dictator, trying to pursue an artistic path in a film written by Stella and Cuckoo writer Ben Edwards.
Cary Grant and Timothy Leary: Ben Chaplin plays the Hollywood heartthrob who introduces psychologist Timothy Leary (Aiden Gillen) to LSD. This episode was written by Ed Dyson and Roger Drew.
And the other episodes in the second series are:
Muhammad Ali: In which Noel Clarke plays the boxing legend talking a suicidal stranger down from a ledge. Again written by Neil Webster.
The Sex Pistols: Men Behaving Badly creator Simon Nye has written this script about the stories behind the punk stars infamous 1976 appearance on the Bill Grundy show, when they dropped the F-bomb. The cast will be drawn from the National Youth Theatre, and the epsiode is being made by Sacha Baron Cohen's Spelthorne Community Television.
Salvador Dali and Alice Cooper: The surrealist summons the rock star to sit for him while he creates a hologram. Cast and crew have yet to be announced.
Here's a trailer for series one:
Published: 10 Jan 2017
What do you think?