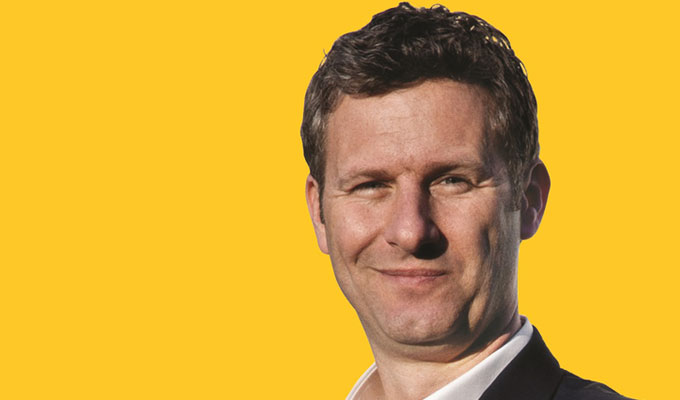 2. Aussie! Aussie! Aussie!
You MIGHT have heard of this guy, having been a Fringe visitor since 1997, thrice nominated for the Perrier, and now the frontman for The Last Leg on Channel 4.He's also got his own chat show down under, but despite all this Adam Hills has still found time to bring his wonderful feelgood show Happyism to the Fringe – guaranteed to raise spirits. Review from Melbourne International Comedy Festival. Assembly Hall, 19:30, 15th to 25th only
2. David Quirk
Quirky paints himself in a very unflattering light in this acclaimed storytelling show about how he cheated on his long-term girlfriend. It won him the Piece Of Wood award in Melbourne – an actual piece of wood handed down from comedian to comedian – and isn't just self-flagellating and navel-gazing... it's funny too. Click here for our review from Melbourne. Pleasance Courtyard, 21:45
3. Matt Okine
Talking of award-winners, Matt Okine shared the best newcomer gong in Melbourne last year for his assured debut Bing Black & Chicken & S#%t – which has finally made its way to Edinburgh. Okine's a personable, vibrant performer with a good sense of storytelling, and could well make waves this Fringe. 2012 Melbourne review. Udderbelly Bristo Square 18:00
4. Ronnie Chieng
Chieng was the comic Okine shared his award with, although their styles could not be more different. Chieng is arrogant, abrasive and witheringly contemptuous of his stupid audience. Watching him might be the closest you'll get to comedy S&M... Here is last year's Melbourne review. Underbelly Cowgate, 19:50
5. Felicity Ward
Ward's quickly become a festival favourite with her quirky combination of stupid and smart, playing up her inner fool in the best sense of clowning as she shares her tales of abject embarrassment. Irregardless might not be a real word, but it is the title of this new show. Underbelly, 22:00
6. Neal Portenza
Dr Professor Neal Portenza's verbosely-titled 'Interactive Goat Hour: There are no goats and the show is only 54 minutes long, excluding the bonus minute' generated a lot of buzz at Melbourne. It's as offbeat as the title suggests, and last year was named best comedy at the Melbourne Fringe. Dram House, 20:00
7. Rob Lloyd
If there's a subject that's almost bound to draw punters to the show, it has to be Dr Who. Rob Lloyd – who certainly has the look of a man who wouldn't be out of place in the Tardis – delivers this show about the Time Lord facing his greatest challenge: His No 1 fan. Just The Tonic @ Bristo Square, 13:25
8. Akmal
This Egyptian-born Aussies is a massive mainstream success back home, having hosted drive-time radio shows and recorded a platinum selling live DVD, and has appeared at comedy festivals around the world. Now it's Edinburgh's turn. Assembly George Square 20:50
If there was a hierarchy of self-deprecation, Hannah Gadsby would be queen... although of course she would be too modest to go and collect it. Happiness Is A Bedside Table relives some of her past humiliations, just as she now seems to be getting to grips with life as a fully-functioning adult. Assembly Roxy 16:30
Fans of anti-comedy, start queuing now, Rathbone is a painfully shy on-stage presence with the look, and the social graces, of your average serial killer. The show Chortle saw in Melbourne travelled a rather bumpy path, but he has all the ingredients for a cult favourite, and many saw him as precisely that. Gilded Balloon, 19:45
See also: KelFi & FiKel, Jon Bennett and Daniel Townes. NB: An earlier version of this story mentioned Tommy Little, but he has canceled his Fringe run.
Published: 16 Jul 2013
What do you think?