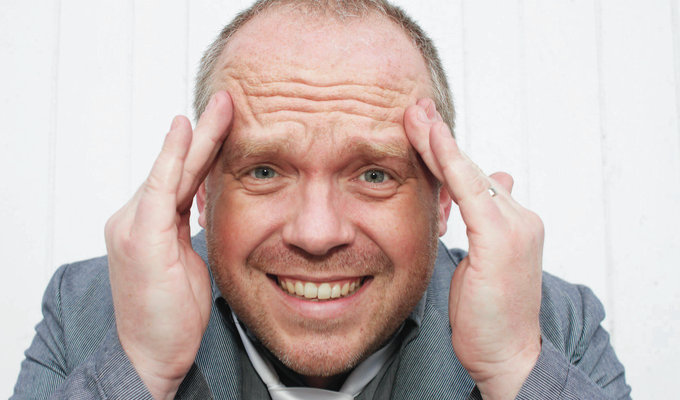 How (not) to put on a comedy night
So. You want to run a comedy night?
Not sure where to start? Well never fear, because here is a handy guide to see you through, to make sure it all goes without a hitch, ensuring the reputation of live comedy survives unscathed!
First, make sure you find a venue that is geographically almost impossible to find. Somewhere up a quiet lane, driveway, or unlit road would be ideal.

Make sure the room is perfectly set up for a comedy crowd and performance. The main room of a pub is perfect.
If the landlord/venue manager is offering to give you money to put the night on, it's best to pocket most of that, and not charge the punters to come and watch. After all, everyone cares about something they haven't paid for.
When promoting your comedy night, it's simple. Just list an event on Facebook. No need for posters or leaflets. They only ruin the environment. Everyone who says they're going to a Facebook event turns up, and the event will be a success, never fear!
If you must do a poster, clip art and Word are the perfect computer packages to do your night and the acts justice. Maybe even go onto the acts' personal Facebook pages and grab an image from their family photos.
When laying out the room for the show, always put the performance area by the toilets.
Make sure the lighting for the venue is not adjustable. The best way to create an atmosphere is in a brightly lit room.
Where ever possible please put fruit and quiz machines in the venue. A local addict who won't get off the machine really helps to set the mood.
Keep your night exclusive. If you do produce a leaflet or poster, only put them behind the bar. Don't put any leaflets or posters around the town or village. You don't want the night too busy!
If you must move the chairs and tables for your night, position the front row of tables to create an end-to-end barrier between the audience and the acts. That helps create what is known as the 'Live At The Apollo' effect. It's suggested for best results, however, to leave the tables and chairs just as they are when it's a pub/social club/function room. If people want to watch, they can always move the chairs themselves.
When choosing a microphone, choose a wireless one. A comedian would prefer their punchlines to be broken up when the battery is going, more than a pesky cable any day!
Brief the bar staff to serve throughout the show. If possible, limit the use of the loud industrial coffee machine to when the acts are on.
Glass collectors must only collect glasses from the front rows when the comedians are performing. They must NOT collect glasses during the intervals.
If your venue serves food, try to squeeze in the serving of the order in the first interval. You may decide to increase the length of the first interval to 30 minutes, but if that's not possible, don't worry; people enjoy laughing with their mouths full.
If food isn't available, then it's usually best to not have any intervals. People have come to watch comedy, so if they really want to use the toilet, buy a drink, or go outside for a cigarette, then they can get up and do that when they want. They don't need a 'special time' to do that.
Never done comedy? Don't worry – you can still MC the show yourself.
Acts prefer it if the microphone doesn't quite fit into the microphone stand. Double check this is the case before the night starts!
Find out who the local idiot(s) is/are, and pay them to come along. Especially if they love drinking, and enjoy sitting at the bar chatting to the staff.
Regardless of who is on the bill, always advertise the line up as 'the best comedians on the UK circui'.
Don't tell the comedians who else is performing. They hate car sharing, and prefer to travel alone, even if it costs them more.
If you're unsure how many acts to book for an evening's show, the safe number is 12.
Worried about where to put the comedians when they aren't performing? They generally prefer to be sat at a table together next to the stage, in full sight of the audience.
Don't give yourself more work than you need to: most comedians know where everywhere is, and every comedy night starts at the same time, so don't worry about sending out final confirmation details on an email, unless they ask.
There's nothing worse than an audience having a crick in their neck, so don't put in a little stage or platform. All stand-up comedy happens at chest height or above.
If you get a chance, put some of the audience to the side, or (ideally) behind the performer. Some great views can be had from there.
Plan your show to be on the same night as a major football event. This will mean the venue can kill two birds with one stone, playing the football on their TVs AND having a comedy night.
Don't check your emails on the run-up to the show. It'll only be the comedians double-checking information – they can be a real drain on your time!
You've arranged the night in full co-operation with the landlord/venue manager, so don't let him complicate things by letting his staff know. That way, if anyone asks about a 'comedy night they'd heard about', they can look at them blankly, and deny any knowledge.
Don't keep too strict on timings with the acts. Let them fulfil their creative desires. If they want to do 20 minutes instead of 10, let them. No one needs to get home.
Try to find a venue with a pet. A huge dog is best, especially if it's allowed to roam around or bark loudly from the next room.
Let the venue make the most money it can by charging all the acts for drinks and snacks. Comedians are rich enough anyway!
If you can cobble together enough prizes, a raffle is always best just before you bring on the headline act.
And finally, enjoy yourself. The most important thing is you've made money and YOU'VE had a good time. No one else is more important than that!
Tweet
Follow @chortle
Published: 10 May 2013