Russell Howard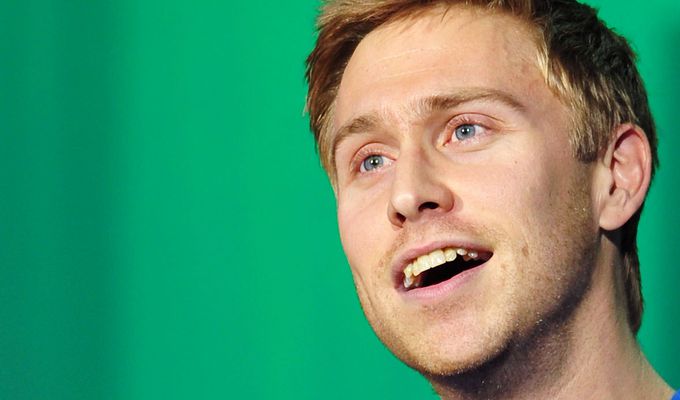 Date Of Birth: 23/03/1980
Bristol-born Russell Howard started comedy as a teenager, making the finals of Channel 4's So You Think Your Funny? competition in 1999 in only his fifth ever gig. Two year later, he was also a finalist in the BBC New Comedy Awards.
He made his Edinburgh debut in 2002, sharing an hour-long show with fellow stand-up Matt Blaize, and returned the following year as part of the long-running Comedy Zone showcase line-up. His first solo show was in 2004, and he has returned to the Fringe every year since. In 2006, his show Wandering was nominated for the if.comedy award – and he won the Chortle award for best compere.
In 2006, he joined BBC Two's topical panel game Mock the Week as a regilar panelist. He has also made appearances on Would I Lie To You?, Live At The Apollo, Law of the Playground and Never Mind the Buzzcocks.
On radio, Howard has co-hosted Radio 2's comedy show Out to Lunch with Rob Deering and appeared on the Banter and Political Animal for Radio 4. From November 2006 to July 2008, heco-hosted a Sunday morning on BBC 6 Music with Jon Richardson as his sidekick.
Russell Howard Videos
Reviews
Russell Howard: Right Here, Right Now
If we're going to continue with this irrational notion of stand-up in arenas, isn't it about time they got the sound right? Even from great seats in London's O2, Russell Howard's voice was bouncing around the echoey walls, making him sound less like a top comic in one of Britain's supposedly most prestigious venues and more like the bloke commentating on the tractor display at the North Somerset regional agricultural fair.
Still, it's tribute to his performance that such infuriations were soon forgotten on the last night of his Right Here, Right Now Tour after a series of dates scattered across the entire year. Or at least they were once he'd got beyond the early, straightforward, comments on the likes of Come Dine With Me and Embarrassing Bodies that every other comedian seems to have a similar take on.
Howard really came into his own once he spoke of his own failings. Though his unassuming star quality gives him on-stage kudos, he's happy to admit he's nervous around women, clumsy and stupidly childish – and he has the funny anecdotes to back it up. The stories are unique to him, but of a type everyone can identify with. He is truly the People's Plonker.
That boy-next-door charm has made him something of a BBC Three pin-up, where his Good News can attract up to 1.4million viewers for a single showing… many times more if you count reruns and iPlayer. Such mainstream youth success means has the sort of audience who cheer, without irony, at mention of Take Me Out, Twilight and Justin Bieber -– so he must walk the line between taking the mick and being too cynical. That's mainly achieved with playful turns of phrase, with analogies such as Madonna's veiny arm being 'like the BFG's penis' or his punny suggestions for strip club names.
Not that cynical is a word readily associated with Howard. The whole show comprises reasons to be cheerful, which he conveys with an unaffected, infectious glee. Nor is it as soft and toothless as his overwhelmingly positive attitude might suggest – he can talk about Thai ping-pong sex clubs just as naturally as he anthropomorphises his dog into a cutesy cartoon.
But how many other comedians could, genuinely, have something as overwhelmingly upbeat as Russell's List Of Joy, which he reads from a laptop while perched on a leather armchair on stage, while at another point he says: 'This show's basically a love letter to my family.'
His relationship with his brother is certainly fruitful. He mentions he once covered the £20,000 medical cost when his sibling's appendix burst on an uninsured holiday – but the material that relationship has provided has surely repaid that debt many times over. As he regales us with tales of practical jokes and of no-holds-barred teasing over the Christmas dinner table, it is an obvious celebration of a close-knit family.
His full-on mate Spider, a friend since school where he demonstrated a prodigious gift for masturbation, similarly provides more than his fair share of anecdotes – again with his vigour for life lionised and mocked in equal portion.
Howard is animated on the O2 vast stage, though he does over-use a few tricks, such as comparing certain behaviour as to what 'mental' people would do, or by apparently slipping up over words and spinning off into a side routine. The technique of illustrating stories with a suitably comic picture has also been appropriated from Good News, and never more so that the tabloid story of 'the Ninja From Norwich' who is predictably incompetent, even though you've got to love him for trying.
The show ends with a Q&A, which is as messy as these things usually are, with Howard trying, unsuccessfully, to pick out possible seeds for humour from an arena full of people baying for him to show them his arse.
That he's playing such spaces is an inescapable fact for a photogenic boy-next-door performing what could easily be pigeonholed as 'safe' material. Today's comedy industry is always going to manufacture stars in this mould – but away from his natural, self-effacing charm, Howard has material that's often sharper and much better-written than you might expect. Success couldn't have happened to a nicer guy.
News
Comments
Russell Howard Dates
Sorry. We have no listings of forthcoming performances by this comedian.
Represented by
We do not currently hold contact details for Russell Howard's agent. If you are a comic or agent wanting your details to appear on Chortle, click here.