Russell Howard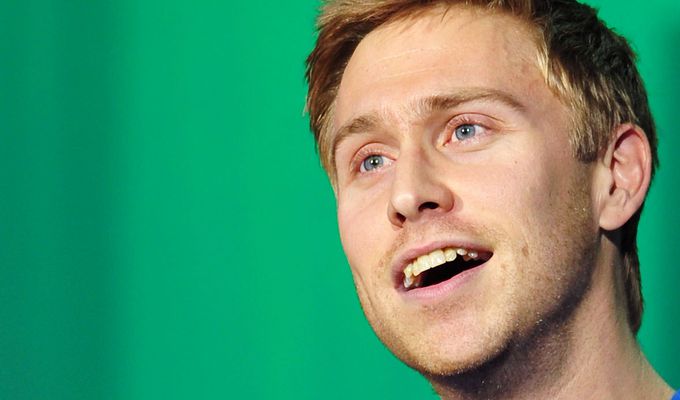 Date Of Birth: 23/03/1980
Bristol-born Russell Howard started comedy as a teenager, making the finals of Channel 4's So You Think Your Funny? competition in 1999 in only his fifth ever gig. Two year later, he was also a finalist in the BBC New Comedy Awards.
He made his Edinburgh debut in 2002, sharing an hour-long show with fellow stand-up Matt Blaize, and returned the following year as part of the long-running Comedy Zone showcase line-up. His first solo show was in 2004, and he has returned to the Fringe every year since. In 2006, his show Wandering was nominated for the if.comedy award – and he won the Chortle award for best compere.
In 2006, he joined BBC Two's topical panel game Mock the Week as a regilar panelist. He has also made appearances on Would I Lie To You?, Live At The Apollo, Law of the Playground and Never Mind the Buzzcocks.
On radio, Howard has co-hosted Radio 2's comedy show Out to Lunch with Rob Deering and appeared on the Banter and Political Animal for Radio 4. From November 2006 to July 2008, heco-hosted a Sunday morning on BBC 6 Music with Jon Richardson as his sidekick.
Russell Howard Videos
Reviews
TV review: Russell Howard's Stand Up Central
Russell Howard owns stand-up on digital television. Tonight it's possible to watch three different episodes of Russell Howard's Good News – on Comedy Central Extra, Dave and BBC Three. In fact, counting the +1 channels and repeats, there are 27 Russell Howard half-hours being broadcast across the channels between now and bedtime on Saturday.
Among them are several repeats of last night's first episode of Russell Howard's Stand Up Central, the much-vaunted new show from his deal with Comedy Central. The fact its frontman is already so ubiquitous may make it difficult for the show to stand out, not to mention the fact the straightforward filming of the performances that makes it look like so many other stand-up shows, right down to the generic guitary theme tune.
The only real twist is that rather than simply perform a typically feelgood observational routine (which is present and correct) much of Howard's time is spent answering questions asked by the audience – including inadvertently insulting one stegosaurus-loving punter. That gives a feeling of spontaneity, even if a cynic might think that his slick responses to some of the other questions mean they might not entirely be a surprise to him…
Howard's name may be in the title – and his face on all those buses and posters – a safe, known factor proved to pull in the viewers. But his contribution to the show is only a few minutes of upbeat ice-breaking. That allows his guest comedians the lion's share of the timeslot in which to perform longer sets, continuing the fine work in giving lesser-known comics exposure that he started with Good News.
Admittedly his guests aren't as far from the beaten path as those on the now-axed Alternative Comedy Experience. Sara Pascoe is such a telly veteran she's even been on QI, as she manages to shoehorn into a sarcastic response to gushing new parents – several times in fact. She pushes the envelope a little with the sort of content you might expect on primetime TV, discussing the medical state of her reproductive system or offering wry commentary on such feminist issues as the hopefully now-defunct Page 3 or the role-reversal involved as she earns more than her boyfriend. It's intelligent stuff, snuck under the radar thanks to her everywoman conversational charm.
Nish Kumar offered punchy – if a little over-emphatically delivered – set on the nature of comedy itself, as well as the patronising and hypocritical situations arising from race. He, too, demonstrated a smartness not always associated with this channel. And somehow Comedy Central didn't find space to include his savage take on the vacuous humour of Two And A Half Men that featured so prominently in his last Edinburgh show…
The quality of guests holds up for the rest of the series too, with the likes of Nick Helm, Alex Horne, Andrew Maxwell and Katherine Ryan coming up. Viewers will tune in for Howard but will, hopefully, have their comic horizons expanded by the support acts.
News
Comments
Russell Howard Dates
Represented by
ADVERTISEMENTS
Past Shows