Marc Maron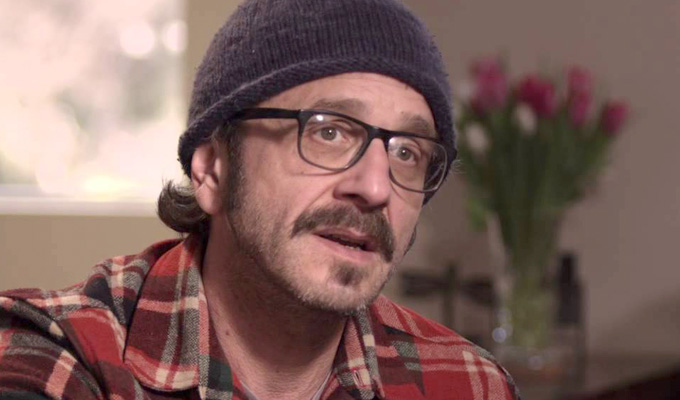 Date Of Birth: 27/09/1963
Marc Maron Videos
Reviews
Marc Maron
He's now hanging out with presidents on a podcast that's brought him success on his own terms after three decades of desperation and self-destruction. But Marc Maron's live show feels like a man in anger management therapy talking through his ruinous urges, lest they get the better of him.
Maron doesn't so much vent his spleen any more as tell us how beautifully satisfying it is to get consumed by rage then let it out, believing 'if everyone likes you what sort of spineless asshole are you?' But he's also trying to behave better, not making the impossible promise never to fly off the handle – but at least to apologise quicker.
Though he seems more relaxed, the neuroses are there in almost every word he says, not to mention his nervously jittery legs as he sits on his stool, belying the laid-back vibe that stance normally suggests. He even gives voice to his 'inner blogger', offering a critical meta-commentary on the gig, a literal outlet for his insecurities. When he comes off-mic he realises he's 'just a man' not the proto-messiah the lights and mic might temporarily convince him that he is.
'A little stumbly,' is the verdict of Maron's internal reviewer on the opening section, but the comic quickly finds his groove with a wide-ranging monologue bristling with all the existential angst of a 51-year-old double divorcee living with his two cats and a sackful of doubts. 'I don't even know what the point of life is,' he says. 'Not in a depressing way.'
That he has to describe every thought and emotion that strikes him during the gig is part of his appeal. In laying bare his complex personality, he seeks a resonance within the shadowier corners of his audiences' psyches – a reminder of the base fears, fragilities and furies we normally keep suppressed. When he unlocks that, the connection is strong, bonded by a shared shame. When he describes his self-loathing realised and amplified through an ice-cream binge, it's utterly authentic, bleakly relatable and damn funny.
Tonight's sold-out gig at London's Queen Elizabeth Hall is given extra edge by the presence of a 14-year-old near the front, to whom Maron directs some grim lessons, preparing him for a lifetime of bitter disappointment. And that's before we get onto the hilariously graphic sexual material. Maron has a theory of the one thing that unites every adult on the planet, and it's pretty ikky.
The disillusionment with idols is one theme, whether it's the Rolling Stones – in which Mick Jagger's increasingly inappropriate sexual swagger are made into a wonderful analogy for a universal denial of ageing – or religion. On that topic, his bit about Good Friday being not-all-than good for Jesus seems overcooked, but his reasoning behind the Ten Commandments is excellent.
Closer to home, some emails from his aunt and stories from his childhood in Albuquerque offer a hint of the background that made him the screw-up he is today. But the angst, awkwardness, uncertainty and cynicism that instilled certainly makes for a brutally entertaining 90 minutes.
News
Comments
Marc Maron Dates
Sorry. We have no listings of forthcoming performances by this comedian.
Represented by
We do not currently hold contact details for Marc Maron's agent. If you are a comic or agent wanting your details to appear on Chortle, click here.