Mathew Horne Date Of Birth: 06/09/1978
Mat Horne studied drama at the University of Manchester, where he met Bruce Mackinnon, and formed a comedy double act, making the final of the So You Think You're Funny new act competition at the 2000 Edinburgh Festival.
His first TV appearance was in the obscure E4 show Noble and Silver: Get Off Me! in 2001, and he had a number of small roles until landing the part of RE teacher Ben Birkett in Channel 4's Teachers in 2004. He was a regular in the third series of The Catherine Tate Show in 2006, and starred in the BBC sitcom Roman's Empire the following year.
However his big break came with BBC Three hit Gavin & Stacey in 2007, which earned him a best male newcomer nomination at that year's British Comedy Awards. On the show, he struck up a friendship with co-star (and co-writer of the series) James Corden. They have since hosted Big Brother's Big Mouth together, as well as various awards ceremonies. Latterly they have been working together on a BBC sketch show, and a movie Lesbian Vampire Killers.
Mathew Horne Videos
Reviews
Lesbian Vampire Killers
Note: This review is from 2009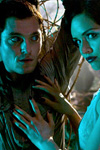 Though it's too early to speak of Lesbian Vampire Killers as the final nail in the coffin of Mathew Horne and James Corden's comic partnership, with the poison ink still wet on the reviews of their BBC Three sketch show, this high-concept, lowest-common-denominator movie has all the career resurrective powers of a stake through the eyeball.
Every broadcast of the justifiably adored Gavin and Stacey reiterates that the pair are accomplished comic actors with a matey chemistry that radiates from the screen. Whether they're cinematic leading men is more debatable – but if Simon Pegg and Nick Frost can pull it off with Shaun of the Dead, Horne and Corden are certainly better-looking and more comically obese, respectively.
Sadly, such superficiality is all this film aspires to. Lesbian Vampire Killers sprang from former MTV comedy writers Stewart Williams and Paul Hupfield pitching the most commercial idea they could conceive of for the straight-to-DVD market. With Horne and Corden's attachment and a cinematic release, the movie seemed to promise an exploitation triple whammy of stars, gore and babes. Somehow though, it fails to titillate on even the basest level, save for the dubious pleasure in seeing Paul McGann squirm as a profanity-barking vicar.
Horne and Corden play Jimmy and Fletch – essentially Gavin and Smithy, with the same mildly homoerotic undertones but none of the familial ties that give their sitcom characters depth and likeability. Jimmy has been dumped by his two-timing girlfriend Judy (Lucy Gaskell), who provides the template for every woman in the story by pouting as if she's just bounced, pneumatically and dead-eyed, straight out of a lads' mag.
Fletch meanwhile, is simply a hateful berk, fired from his job as a clown for punching a seven-year-old. Again.
Feeling sorry for themselves, the two friends decide to get away from it all. After a lengthy drinking session, a drunkenly tossed dart in a map dictates they set off hiking in the village of Cragwich. Arriving in the sleepy backwater, they observe a quartet of generic Eurobimbos leaving a pub in lingering slow motion, before piling into a camper van and driving off.
In the pub, following some initial frostiness from the assembled yokels, McGann's agitated man of the cloth dashes in and begins gnashing his teeth about some unmentionable curse. His daughter makes eyes at Fletch before being dragged away and the two young strangers are treated to free beers and an offer of accommodation for the night, in the same cottage in the forest recommended to the girls.
After catching up with their giggling quarry, the six arrive at the cottage and begin drinking and dancing, before a painting of a vampiress provokes Lotte (MyAnna Buring) to explain that the girls are actually students of folklore and that Cragwich is home to the infamous Carmilla, queen of the lesbian vampires. A spark is developing between Lotte and Jimmy, but then two of the girls venture outside and disappear...
Despite its 15 certificate, Lesbian Vampire Killers seems designed to frustrate teenage boys, who, while roundly derided as BBC Three's target audience, are surely not so worldly naive as to be satisfied with this lame spoofing of The Evil Dead, Lost Boys and Highlander, not to mention virtually bloodless horror and nipple-shy titilation. Recurring gags involve a sword with the handle of a dildo and vampires orgasmically expiring in an explosion of semen-like gunk.
Following the accusations of homophobia levelled at the sketch show, here lesbianism is largely confined to extras tickling tonsils in the background while Fletch's fear of 'bumming' is just one more instance of crass, sniggering dialogue in a script that's wretched with it.
Director Phil Claydon employs graphic novel-style titles and jerkily sped-up motion to consistently irritating effect, framing every shot with the leering eye of a compulsive masturbator.
Horne and Corden may be the very definition of over-exposed talent but they're surely decent enough actors to survive this debacle. Mind you, the final shot of a limp-wristed werewolf and threat of a sequel suggests Lesbian Vampire Killers might yet return to bite them.
Reviewed by: Jay Richardson
News
Comments
Mathew Horne Dates
Sorry. We have no listings of forthcoming performances by this comedian.
Represented by
We do not currently hold contact details for Mathew Horne's agent. If you are a comic or agent wanting your details to appear on Chortle, click here.