Kate Smurthwaite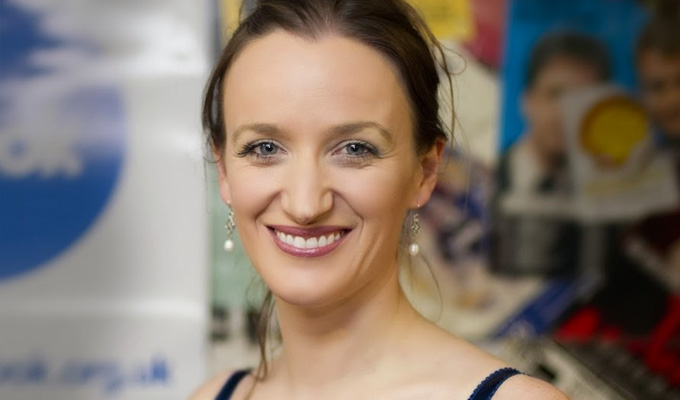 Kate Smurthwaite started performing as a comic in early 2004, and 18 months later quit day-job in finance to become a pro. She made her solo debut at the Edinburgh Festival in 2006 with the show Adrenaline.
Reviews
Kate Smurthwaite: The News at Kate 2013 My Professional Opinion
Kate Smurthwaite is a rent-a-gob; the go-to girl for TV and radio producers wanting an outspoken feminist to counter the views of the religious right. Her proudest moments on such combative programmes as The Big Question and This Morning have given her both some viral YouTube moments in the sun, and the backbone of this, her seventh solo Edinburgh show, as she mines her experiences for tips for anyone else who might be invited to appear on the small screen.
In the studio, she's expected to be passionately earnest rather than flippant, but that unfortunately spills over to her stand-up, too. There's a long section here when she replays a debate with dotty MP Nadine Dorries – represented by a wig that's part Princess Di, part Myra Hindley – that starts as an excuse for Smurthwaite to explain her stance on abortion, but soon becomes a political speech on Tory doctrine untroubled by jokes. Passionately delivered, it gets a round of applause from a sympathetic audience, but you couldn't call it comedy.
It's not the only part of the show that seems like point-scoring, as she relives an argument with Dawn Porter, liberally illustrated with examples of things she said in articles. Though the aim is to expose bigger issues through the prism of a celebrity spat, in execution it's more like listening in to someone rather too doggedly justifying their position during an internet debate.
Talking of which, Smurthwaite has attracted her fair share of abuse online. It's too early, and the Fringe too massive, to talk empirically about common themes across the festival - but the topical issue of cyber-heckling and abuse would surely feature highly. Smurthwaite isn't the only comic to get mileage from rolling her eyes at the disproportionally angry web comments that are directed at her, but she exploits the subject well and gets the laughs.
You can see her appeal to the TV researchers; her delivery is natural, heartfelt and with intelligence, while she rallies the audience to a cohesive group with good-natured badinage, so they back her all the way.
There are a few occasions when she demonstrates a joke-writing flair, such as a particularly clever quip at Ms Dorries's expense, but her main asset is being able to robustly structure a show. Although it notionally rests on a formula provided by the 'How to argue' WikiHow page, My Professional Opinion has enough twists and surprises to maintain an interesting narrative.
But it's not as hilarious as it is thought-provoking; as Smurthwaite treads between delivering a light-hearted media training session, a political rant, and genuinely funny jibes at the intolerant.
News
Comments
Kate Smurthwaite Dates
Represented by
We do not currently hold contact details for Kate Smurthwaite's agent. If you are a comic or agent wanting your details to appear on Chortle, click here.