Jerry Sadowitz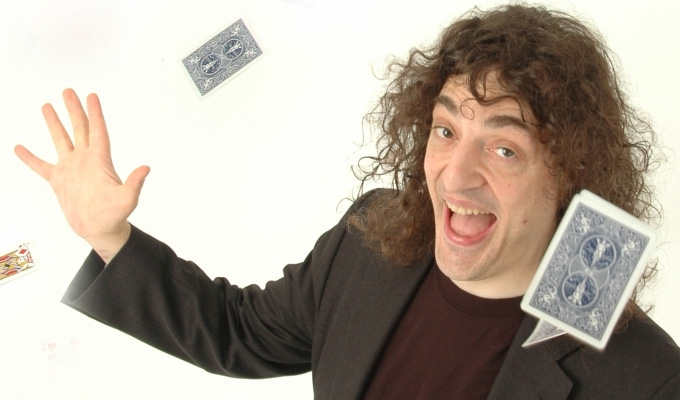 Date Of Birth: 04/11/1961
Born in the States, but brought up in Glasgow, Sadowitz has a well-deserved reputation of the bad boy of comedy.
An aggressive stand-up, and accomplished close-up magician, Sadowitz made his name by bristling with anger, much of it vented at the right-on comedy circuit around him and the audiences who came to see it.
He famously opened the Montreal comedy festival with the line "Hello, moose-fuckers" and was promptly knocked unconscious.
And at the Comedy Store, at the height of political correctness, he won a bet with fellow comics by saying: "Nelson Mandela, what a cunt." It was only the next night that he thought of a punchline for such an inflamatory comment. "You lend some people a fiver and you never see them again."
Aside from the rage, Sadowitz has also provoked the ire of the comedy establishment by railing off streams of unapologetic racist jokes in his perpetual desire to shock liberal audiences.
Sadowitz's first love, though, remains his magic and he spends years out of the spotlight to devote himself to his art. Recently, he has re-emerged to perform both magic and typically savage stand-up shows.
Reviews
Jerry Sadowitz: Comedian, Magician, Psychopath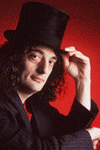 Say what you like about Jerry Sadowitz, but he was way ahead of the curve. He was spouting racist, sexist, anti-disabled, homophobic, gratuitously sick jokes back in the distant days when comedy had a politically-correct face. Nowadays, every Ricky, Jimmy and Frankie uses the language of hate, only occasionally with a fig-leaf of irony.
Sadowitz thinks some of the newer generation have stolen his act. In which case there are several tramps shouting at bins on Sauchiehall Street who might have a case against Sadowitz. This is an expletive-heavy, semi-coherent but intense rant against the blacks, the Jews and the 'spastics' from a shambolic wreck of a man – as if these are in someway responsible for his abject sense of miserable worthlessness.
There's no irony here, and no apologies either. Ricky Gervais might have caused a stramash for tweeting the word 'mong' – Sadowitz is only offended he didn't use 'mongaloid', prompting the Glaswegian into a volley of bad taste that would keep an equality and diversity outreach worker in paperwork for months.
His humour is undeniably dark, but the intent – and reception – of his diatribe is in a greyer area. No moderate, sane person would agree with his hate-flecked outbursts suggesting all black people are criminals or the occupants of Dale Farm are all smelly, thieving pikeys. But you're not supposed to. Sadowitz is not exactly a role model, unless you're in the English Defence League.
However, the worse category of human – lower than any of the minority groups he so freely denigrates – are other comedians more famous, more successful, and probably more happy than him, having built career on spouting bland niceties. No surprise that in the curry house of comedians, he sees himself as the hottest vindaloo – while Michael McIntyre and Jack Whitehall are the plain boiled rice.
Nonetheless, as the nation has become used to a diet of stronger material, many people – certainly his particular audience – have become dulled to offence. It's come to something when he cracks tasteless gags about Madelaine McCann and it seems almost hack, rather than appalling.
Certainly no one, even in liberal Brighton, stormed out, which Sadowitz might count as a failure. His uncompromising brutality still goes further than anyone else, and frogmarches into controversial topics anyone with a twinge of liberal conscience would give a wide berth to.
Yet some of his audience also appear to be refugees from the Chubby Brown fan club, cheering with no apparently sense of irony at some of the more extreme opinions. That grey area gets greyer with every bitter insult.
Such old-school non-PC comedy is usually frowned upon for targeting those less fortunate, but Sadowitz's tacit defence might be that in his warped mind no one is lower than him. Certainly when he hurls racist insults at the Chinese, for example, he makes it quite clear that he's punching upwards… he might call them 'slitty-eyed', but they will soon be our economic masters.
So, it's an evening of unpalatable views, but is it funny? Again the jury's out. Some jokes are too vile to be classed as any form of entertainment, and sometimes the material is not even a joke, just anger. But then, when you are not expecting it, an unexpected punch will land so hard, it will get you laughing.
But more than Sikipedia-style gags, this is an unflinching portrayal of hate, as intense and convincing as any dramatic Shakespearean actor. Not that Sadowitz would ever be so cowardly as to hide behind a character, of course: when he does adopt the persona of a Bronx Jew in the preamble, the material and style is exactly the same – even the accent keeps slipping back into his native Glaswegian Jew.
Many have hailed Sadowitz a comic genius. That's surely overstating it, but he's certainly uniquely uncompromising. Even as the number of shock-comics swells, he's one of a kind. Thank fuck.
News
Comments
Jerry Sadowitz Dates
Represented by
We do not currently hold contact details for Jerry Sadowitz's agent. If you are a comic or agent wanting your details to appear on Chortle, click here.