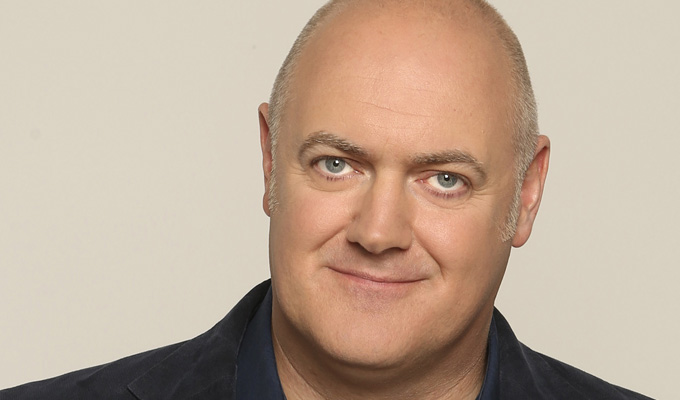 Dara O Briain
Date of birth:
04-02-1972
His show won best theatre tour in the 2008 Chortle awards.
Read More
Dara O Briain: Crowd Ticker
Dara O Briain is one of the most natural, straightforward comics we have. It's a great strength that there seems no difference between his stories and diatribes on stage and what you imagine is his natural state. So it might seem a surprise when he confides that he 'can't do sincere'.
But the version of sincerity that's beyond him is the overdramatic TV version, crying on cue and speechifying with more conviction than meaning. Whether that is really sincere is moot. His reality is to be an educated, quick-thinking Everyman, a bit of an idiot sometimes, just like the rest of us, but sharp enough to realise the traps he's falling into. He's far more pragmatic – and probably therefore happier, than the over-emotional personalities that 'reality' telly demands.
As a consequence, he's suspicious of the romanticised idea of the 'tears of the clown' and the theory that all comedy comes from a dark place. Yet although not derived from personal torment his routine about the trivial squandering of the earth's resources comes from a depressingly bleak prospect, should you come to think beyond the light touch with which he presents it. Not that his motormouth delivery offers much opportunity for contemplation; as always his urgent pace keeps driving towards the next joke. O Briain professes to revel in the silence when he takes a pause, but it's a rare event for a man who talks so breathlessly fast.
This show is called Crowd Ticker, and the first half leans heavily on his badinage with the audience… although that word suggests more of a two-way process than actually happens. He seizes on a fact and runs with it, his mouth and his mind racing ahead, fighting to keep up with each other as he imagines stories about the one-armed builder or gardener still wearing his hat in the front row. Using the crowd's suggestions to create a fictional high-end box-set drama to follow the template of all the others is a straightforward formula, but produces some unique-to-this-night gems, thanks mainly to the woman with no imagination. Still, she did better than her neighbour who dozed all the way through the first half, and didn't return for the second.
It is after the interval that the more substantive of O Briain's routines fall. Many are ostensibly about the brain, as suggested by the phrenology heads that form the show's posters, although the endless fascinations of this little-understood organ is lightly covered. It seems he's more interested in nurture than nature, this father of a six-year-old daughter questioning some of the things we teach our kids and its irrelevance to the real world.
Certainly children's literature might be partially responsible for the sympathetic anthropomorphism we carry into adult life, and O Briain has some great sport with our emotions, making us feel sorry for inanimate objects while mocking us for that very same empathy. The tragedy of poor old Chuggy will resonate for a long time after the gig…
He offers philosophies of his own across the night, although any messages he wants to convey bobble around beneath the torrent of consciousness, like a balding Irish comedian being tossed down the Zambezi, one of his anecdotes here. Even a routine about lingerie comes from a smart point of view, as he astutely imagines a strange science that makes some undergarments sexy, some the exact opposite.
He's aware of his own place in the world, too. With some comics that leads to self-absorption, but with O Briain, it's part of the acceptance that keeps his comedy upbeat.
This Southend gig is his first 'proper' UK date after an Irish run and a few warm-ups; and as he wraps up he talks of tweaks he intends to make. They will be minor. The strength of his affable personality makes for an unpretentious couple of hours of comedy in which the laughs flow as fast and fluidly as his pacy material.
Read More
Published: 12 Feb 2015
It's hard to believe, but this is billed as Dara…
19/07/2014
Dara O Briain is well aware that every show wants an…
20/10/2012
This is comedy as an endurance event – the sort…
25/05/2011
Dara O Briain has become such a part of the comedy…
17/09/2010
As the only comedian to have played all 15 previous…
10/06/2010
Given his festive first name you might expect Robin…
1/01/2008
Charity gig programming is often a tricky affair, balancing…
1/01/2006
Description Tickets available on Tuesday…
1/01/2006
O Briain is one of those stand-ups who just seems…
1/06/2005
Dara O'Briain is surely one the most reliable comics…
1/01/2004
Last year, Dara O'Briain put together what he considered…
1/01/2003
Conventional wisdom suggests you need themes and structure…
1/01/2002
Dara O'Briain is yet another of those comics who has…
1/01/2001
Products
Past Shows
Agent
We do not currently hold contact details for Dara O Briain's agent. If you are a comic or agent wanting your details to appear on Chortle, click here.