Barry Humphries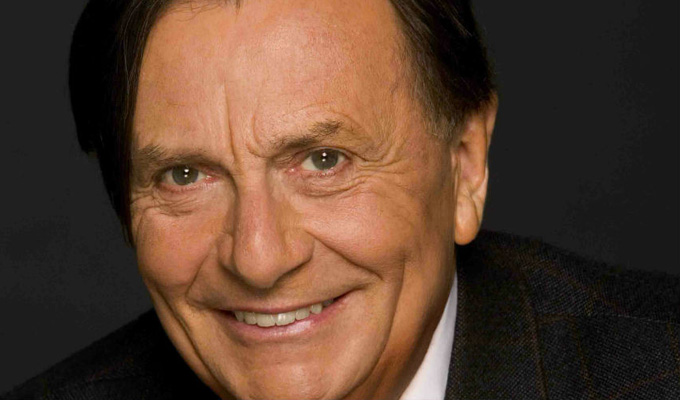 Date Of Birth: 17/02/1934
Born in the Melbourne suburb of Kew, Humphries was educated at Melbourne Grammar School and Melbourne University, where he read law, philosophy and fine arts. There he staged anarchic Dadaist pranks and exhibitions, with exhibits such Pus In Boots – a pair of Wellingtons filled with custard.
He began his stage career in 1952, writing and performing songs and sketches in university revues. At the start, Humphries had ambitions for straight theatre and toured in Shakespeare plays and joined the newly formed Melbourne Theatre Company.
But the major turning point occurred in 1955, when he created Mrs Norm Everage, a suburban Melbourne housewife who has over the years evolved into the glamorous gladioli-wielding 'gigastar' Dame Edna that has made his fortune.
In Sydney, in the late Fifties, Humphries joined the Philip Street Revue Theatre, Australia's first home for intimate revue and satirical comedy which allowed him to develop a cast of character such as grandfatherly Sandy Stone, sleazy trade union official Lance Boyle and socialist academic Neil Singleton.
In 1959 he moved to London and became part of the so-called Satire Boom, working alongside the likes of Dudley Moore and Peter Cook – performing at Cook's club The Establishment and starring in their film Bedazzled as Envy. He also worked with Joan Littlewood's groundbreaking Stratford East theatre company, and played Long John Silver at the Mermaid Theatre.
While in the UK he developed the cartoon strip about rugged Outback adventurer Barry (Bazza) McKenzie, who predated Crocodile Dundee and real-life Crocodile Hunter Steve Irwin. The character started life in Private Eye, but his exploits were also made into a film.
Humphries also appeared in numerous West End stage productions including the Lionel Bart musical Oliver! and Spike Milligan's The Bed Sitting Room.
Since this first foray into London, he has split his time between England, Australia and sometimes the USA – which he only really cracked with his 2000 Broadway show, one of innumerable solo shows he's performed around the world, usually as Dame Edna with other characters in a supporting role.
But his first London show, in 1962, was slated by the critics, and it took him seven years to return to the West End stage - eventually cracking it with his 1976 production Housewife, Superstar! The only other actor ever to appear on stage with Humphries in his stage shows has been Emily Perry, who played Edna's put-upon sidekick Madge.
Dame Edna has also made numerous TV appearance, including her own LWT chat show The Dame Edna Experience and a recurring guest role in Ally McBeal.
Humprhies' most famous creation after Dame Edna is slobbish Australian cultural attache Sir Les Paterson, who made his debut in 1974. The character was a hopeless drunk, and in reality Humphries too has battled a drink problem. In the early Seventies he was found unconscious in a gutter after a binge, and his parents checked him into a drying-out clinic. Since then, he has abstained.
He was awarded a CBE in the 2007 Birthday Honours, and among his other accolades are an Order of Australia in 1982, an honorary Doctorate of Law at Melbourne University in 2003, a Montreaux Golden Rose for his 1991 show A Night On Mount Edna, and a Tony award in 2000. His autobiography More Please won the J.R. Ackerley prize for biography in 1993
Humphries has been married four times; his fourth wife Lizzie Spender is the daughter of British poet Sir Stephen Spender. He has two daughters and two sons.
At the end of 2007, he underwent appendix surgery in Sydney, but developed complications that forced him to quit work for six months.
Reviews
Barry Humphries: Eat Pray Laugh - The Farewell Tour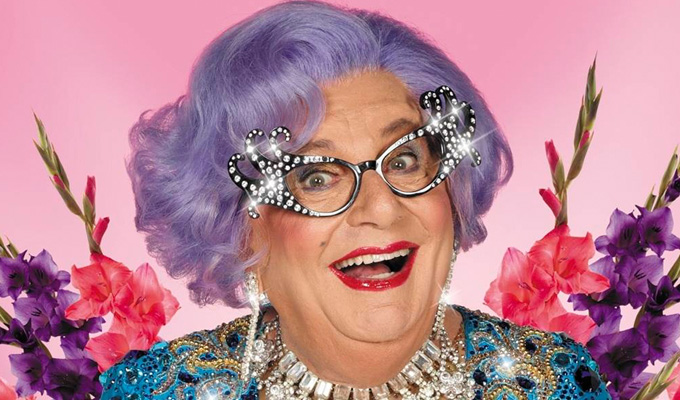 What a way to bow out! After 58 incredible years, Barry Humphries retires Dame Edna – and indeed all his creations - with a glorious mix of pathos, showmanship and biting humour that proves a theatrical triumph.
With the understated glamour we've come to expect of the housewife superstar, she arrives on an elephant made of glitter, yet departs on a tsunami of genuine affection, casting gladioli as she goes.
Humphries himself may be 79, but inside the Everage ballgown he's as sharp and acidic as ever. 'You've aged,' his glitzy alter-ego tells the audience. 'But I've stayed the same.' How true.
The doyenne of drag queens – but so much more besides – she witheringly demeans the dress sense and the social status of the 'plebs' who've come to see her, and we love her for it. There may be an autocue subtly positioned as an aide memoire for the set pieces, but when it comes to crowd work, an agile mind and half a century of experience need no assistance.
She's fearlessly audacious, using her fame to get away with a exquisitely excruciating bit of ad-hoc marriage guidance with a couple of excellent sports drawn from the Milton Keynes audience (Yes, her in Milton Keynes! Imagine!) The filthiest double entendres abound, of course, yet they are done with imagination and wit that make them sparkle as bright as the sequins on her frock.
Along with the gloriously vulgar, we learn more of her family, with a beautifully described visit to her estranged daughter, told through the retches of an acid reflux as she can barely bring herself to describe the horrors of her offspring's piercings and her pitbull breeding. But describe them she does, in perfect comic detail. And we also learn why she is bidding farewell to the stage, thanks to an awakening at an Indian ashram.
A virtuoso valedictory performance, then, or perhaps that should be gladi-dictory. But the great Dame is not the only character we send on their way tonight.
The first half sees the end of Sir Les Patterson, too, and probably not before time. Of course we're not supposed to hold him up as any sort of role model, but getting laughs from calling Chinese people 'slants' or getting 'dolly birds' to pose suggestively with courgettes just doesn't sit well any more. If it's old men with outdated language and ideas you want, try the UKIP conference...
Yet still the old cultural attache somehow makes farting charming, and has picked up some nice turns of phrase. He's always had a good ear for nifty euphemism, and plenty get an airing in this extended sketch in which he throws a barbie unlikely to pass any health inspections. The scene also sees a brief appearance from a new character, Les's brother Gerard, a gay, paedophilic Catholic priest who's pretty one-dimensional.
We also bid adieu to the ghostly Sandy Stone, not Humphries' most famous creation, but one of his most enduring and endearing. John Betjeman has reviewed Stone, calling him 'this decent man from the suburbs' so how can I compete? But this powerful tragicomic soliloquy, alternately tender, uncomfortable, and witty, describes poignantly the decline of loved ones and the commercialisation of care.
As Humphries' canon of characters all retire to showbusiness's own twilight care home, it brings a lump to the throat. And after the flamboyant Edna takes her curtain call and Humphries, as himself, says a personal thank-you, one of the most distinctive and distinguished careers in comedy is given an emotional and fitting farewell. We might not know it yet, but the world will be poorer for not having Edna in it.
News
Comments
Barry Humphries Dates
Sorry. We have no listings of forthcoming performances by this comedian.
Represented by