Anvil Springstien Real name:Paul
Liverpool-born Anvil Springstien has been on the circuit for 20 years, after starting at Newcastle's Crack Club new material night in 1986.
His unusual stage name dates back from the days when his act included a concrete slab being smashed on his chest with a sledgehammer (representing Marxism)
He left school with no qualifications, spent seven years at sea, then two years travellling through Europe, before returning to Europe to become a mature student, gathering a teaching certificate, a degree in sociology and an honours degree in politics. He tried various jobs, including barman, social worker, journalist and teacher before deciding on comedy.
He's since perfomed several Edinburgh shows, gigged in South East Asia, performed at music festivals and done TV warm-ups for Paddy Kielty.
In addition to his live work, he wrote a satirical column for the Middlesbrough Evening Gazette in the mid-Nineties, worked as a presenter on ITV's Net Dot Comedy in 1999-2000 and was a regular contributor to The Big Story, which aired on Granada and Tyne Tees in 2003 and on Radio Five Live's Late Night Curry with Edwina Curry
Reviews
Anvil Springstein: Bingo Nannas and Other Causes o
Note: This review is from 2004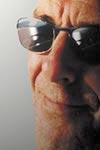 What can I say? A Liverpool comedian of, he says, 17 years experience, doing a traditional stand-up show. He's recently played clubs in Singapore, Borneo and elsewhere in the Far East and could probably play in any venue where they spoke English.
He claims he got backache and couldn't write this show until he was on the train from Newcastle to Edinburgh but, strangely, this train seems to have gone via Carlisle for his pre-Fringe try-outs.
This might explain why there are again jokes about Carlisle in his Fringe show this year, as there were last year. And jokes about Thunderbirds, Stingray, Liverpool stereotypes and other subjects which he also covered last year.
But, hey, it's a good stand-up act; a good traditional script well-told by a seasoned pro who can switch on happiness, enthusiasm and personal warmth from an internal switch marked I'm On Stage.
He also had the confidence to allow stretches without overt laughs where he talked about childhood beatings and lack of love from his mother. If he can develop those strands more, he will have an even more interesting act but if not, he will always be good value for money delivering a totally professional act to satisfied audiences.
The title of the show, of course, means nothing. His nanna used to go to bingo and there was an item about terrorism on TV when his agent asked what the show would be called.

News
Comments
Anvil Springstien Dates
Sorry. We have no listings of forthcoming performances by this comedian.
Represented by