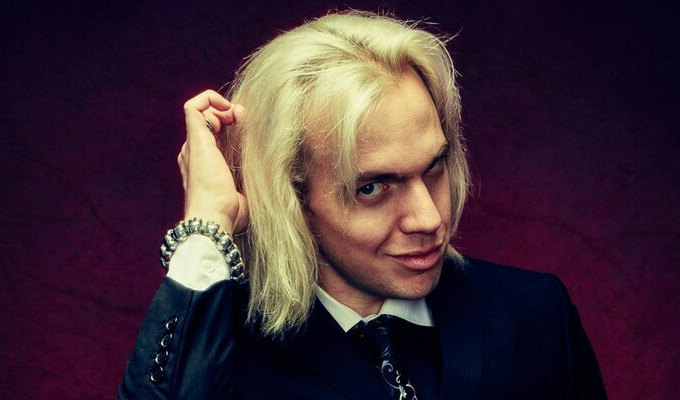 'I get a surprisingly large amount of women dressed as cats in my shows'
First gig
It was in 2003, at an open mic competition in Western Australia. I did OK but the show was run by a terrible comic who later went to jail for pouring gasoline into ATMs and blowing them up. Why they arrested him for that, and not his stand-up, I'll never understand – this was a crime that hurt far, far fewer people.
Worst gig
Jongleurs Birmingham, 2011.
300 boozed-up hens and stags! But I didn't feel like controlling them, so perversely went for whimsy. After a mere two minutes of my 11-minute 'Sad Camel Talking To A Horse' routine, everyone's night was ruined and the room wanted me dead.
To fix this, like King Arthur drawing out Excalibur, I reached into my bag and pulled out my ukulele. 'Let's sing a song about socialism!' said I.
It turns out the trick to not being booed off is you just refuse to leave.
Strangest audience member
I get a surprisingly large amount of women dressed as cats in my shows. Most are cute. Some are cute and will chase things if you throw them.
Some, however, are the 67-year-old Glaswegian grandmother who heckled so viciously and so poorly that she ended up being carried out by security while I shouted vague terms like 'worming', 'neutering' and 'feline leukaemia'.
The gig that changed my life
Perth Convention Centre, 2012. I was performing at Wai-Con, this beautiful anime convention. In the middle of my stand-up set, the whole crowd heckled, so I improvised a bit of fun about old video games and how cruel they were. I called it The Dark Room.
We turned off all the lights in that 3,000 seat theatre and played an improvised game for 40 minutes. That game's been a huge part of my career ever since. Sadism + retro games + audience interaction = you can sometimes pay your rent. Who knew?
Most exotic gig
Out in the far-flung reaches of Phnom Penh, Cambodia, there lie two wonderful shows. One is in a crumbling bar where geckos dance in the flickering green light of the exit signs; the other's in the burger restaurant where they made a sandwich to tie in with The Dark Room – the bun had black bread and, in keeping with the show, was filled with an unexpectedly large amount of alarming crap!
• John Robertson: Dominant at Stand 5 at 18:15; and The Dark Room For Kids at Just The Tonic @ The Community Project at 16:30
Published: 10 Aug 2017
What do you think?