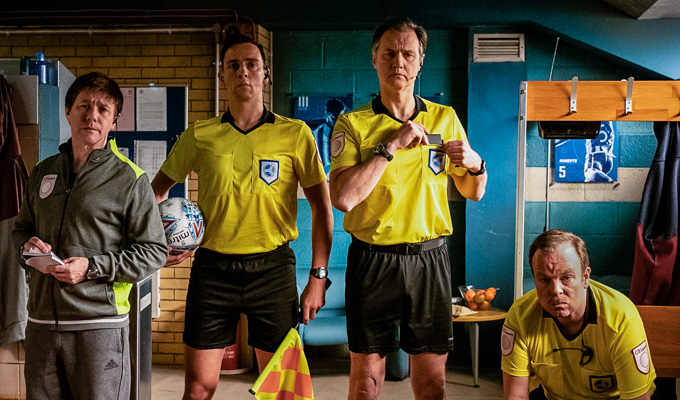 Inside No 9: The Referee's A... 
If conjuring up a fresh set of characters, circumstances and even cinematic style for every new half-hour episode of Inside No 9 takes its toll on Reece Shearsmith and Steve Pemberton's creativity, you wouldn't know it from tonight's taut opening episode of the fifth series.
By their standards, The Referee's A... is a relatively conventional, naturalistic offering, set in the officials' dressing room of a crunch Football League match. Yet into this half-hour they've packed as much drama as nailbiting cup final and a whole year's worth of EastEnders plot twists combined.
Knowledge or love of football is not required – even Shearsmith admits complete indifference to the beautiful game – just know that it's a high-stakes match with Rovers and United standing to win or lose a lot to give the episode its jeopardy.
It's also the last game of an illustrious career for respected whistle-blower Martin (David Morrissey) who
vows to uphold fair play with the aid of his assistants Brendan (Shearsmith), who can't help but mention his past at AC Milan's much better equipped San Siro stadium; Phil (Ralf Little), forever preening himself for the TV cameras in the hope of getting a shot tat the Qatar World Cup; and everyman Oggy (Pemberton).
We don't get to see the match, but do experience the build-up, the consequences of a controversial first-half decision that's fiercely debated at half time, and the ultimate consequences of the refereeing after the final whistle blows. Needless to say, circumstances do not make the 90 minutes on the field the incident-free swansong Martin calls for before kick-off.
While drama is the key to this tight, tense episode, there is more than a touch of humour from Phil's vanity or Brendan reliving past glories – while his diet gives a strand of toilet humour that's a bit cheap but doesn't overwhelm the balance of the episode. But Steve Speirs has the funniest moments as the mascot, a giant… well, no one's quite sure.
Shearsmith and Pemberton have definitely hit the back of the net again with this one.
• Inside No 9: The Referee's A... is on BBC Two at 10pm tonight.
Review date: 3 Feb 2020
Reviewed by:
Recent Reviews
What do you think?