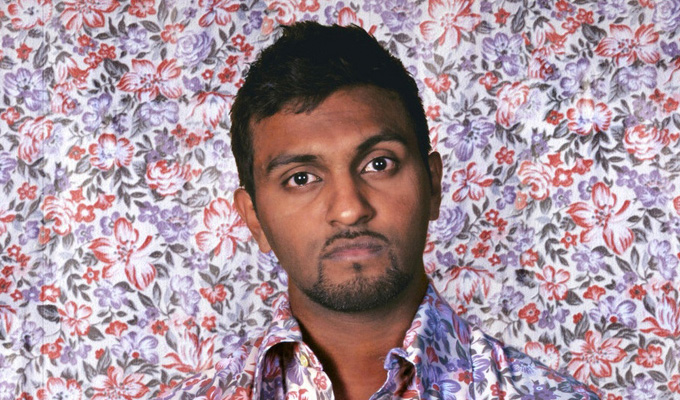 Comedians Of The World - Nazeem Hussain: Public Frenemy
Nazeem Hussain talks almost exclusively about his everyday experiences related to his race and Islamic faith, from being mistaken for an Uber driver, to the assumption he supports ISIS… to being grilled by agents from Australia's security service Asio who'd been keeping tabs on him.
Turns out that before he turned to comedy, the spooks thought Hussain was a radicalisation risk, and had the sort of charisma that could recruit others to a hateful cause.
Over the course of Public Frenemy, Hussain certainly proves he has a seductive charm, even when tongue-in-cheek teasing the audience about how Eid is 'like Christmas 'but based in truth', or joking about the 'one good thing' the murderous fundamentalist crackpots have got right.
For his weapon is mischief, as proved by his tale of pranking the Airbnb-style host who refused to have Indians staying in his Queensland property.
Hussain's talk of the immigrant experience also extends to the insane work ethic of first-generation migrants such as his mother. Or, in his words: 'Brown mums are gangster.'
Mum drilled into the young Hussain the importance of hard graft, giving him the hard-luck story of the lengths she would go to Sri Lanka to get an education in her native. And later, on a trip to Tasmania, it's Hussein who teaches her a thing or two about the way of the world
Hussein talks about the likes of colonisation, but is only mildly political. However the very act of sharing his experiences has the effect of highlighting racial issues, so he doesn't need to drill it home.
Although there are valiant exceptions, he's also not especially hard-hitting in most of punchlines, either – although Public Frenemy remains an amusing, affable half-hour of first-hand stories that might open its audience's world views just a little bit wider.
• Comedians Of The World - Nazeem Hussain: Public Frenemy is out on Netflix now. Watch here.
Review date: 3 Jan 2019
Reviewed by: Steve Bennett
Recent Reviews
What do you think?