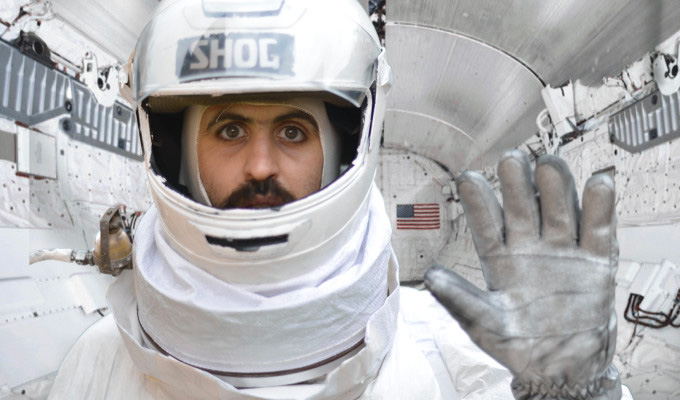 MICF – Cam Venn: Charles Horse Lays An Egg
With a shambolic presentation, preposterous premise and an extremely graphic conclusion, Cam Venn's hour of clowning sets out to be a hot mess of a show. But it's often self-indulgent and overly dependent upon cheap gross-out humour – so while it might be memorable, that's more for its unnerving imagery than its wit.
Your reaction to the premise will probably determine your reaction to the show, and plenty of his audience do indeed love the unapologetic outlandishness of it all. The story is that an astronaut has to have sex with a giant hermaphrodite space chicken to save the Earth, a challenge which involves expanding his penis to fill the creature's 2,000km-wide vagina.
It takes a stage crammed full of elaborate home-made props to tell this story, a very loose parody of Armageddon-style adventure movies. There's a certain charm to the time and effort that has gone into the bizarre, alarmingly detailed handicraft, while Venn has a similar appeal as a performer, nudging the extreme situations away from the offensive.
His Gaulier-style clowning involves some very extended scenes. You've heard of a quick-change artist, Venn is a slow-change one, painstakingly getting in and out of costume, sometimes for the briefest of exchanges. There's also a bit of audience participation, naturally, as we collectively play the Nasa team figuring out the logistics of the gargantuan poultry impregnation.
Much of the absurdity doesn't make sense even in the context of this grotesque fantasy, but if you're expecting internal logic, you are in the wrong show. While the hour is very patchy, individual skits do have an allure, albeit a low-rent one.
A man singing 'Here am I floating in my own dick' to the tune of David Bowie's Space Oddity while inside a penis-shaped outfit takes a certain cheesy chutzpah. And if you are in any doubt of Venn's commitment to his art, wait until you see that icky finale. You certainly won't be able to unsee it.
Review date: 17 Apr 2018
Reviewed by: Steve Bennett
Reviewed at: Melbourne International Comedy Festival
Recent Reviews
What do you think?