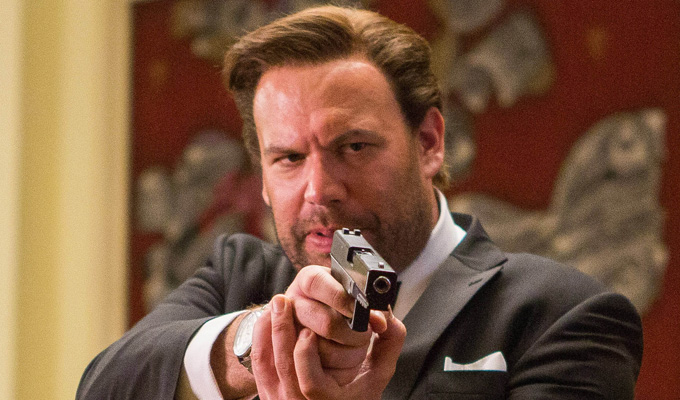 Action Team
With its high-tech HQ basking in the blue glow of vital computer monitors, ITV2's new comedy Action Team might look like Spooks. But it actually has a lot more in common with a rather different franchise: Austin Powers.
Those similarities include the same actor playing both the effective but clueless hero and his well-resourced but technically clumsy nemesis; but also the reliance on a lot of smutty jokes that sometimes work, but sometimes seem very inane, too.
Any impact such puerile gags have come from their contrast with the high-stakes thriller, as the crack MI6 team tackle the major terrorist threat of Abacus. And if you sniggered at the word 'crack' there, this might be for you. The phrase 'dirty bomb' is also used to that effect in the script.
The comedy sets out its stall in the opening scene when a tense shootout in a Moroccan warehouse ends with macho lead Logan (played by series co-creator Tom Davis from Murder In Successville) exposing himself. Later there's a riff on the topic of smelly balls. Classy!
Logan's deadly Action Team also comprises Laura Checkley's Monica, bluntly and insatiably lascivious, much to the disgust of the targets of her affections; Horrible Histories' Jim Howick as sharp-shooter Graham; and a naive kid on work experience ( #HoodDocumentary's Kayode Ewumi) because… well, 'comedy'.
That none of them acknowledge that they are in anything but a serious thriller, performing entirely po-faced, works in the show's favour, and there are some entertaining moments of slapstick, too. The thriller aspect is well done – and looks like it has a decent budget – so it's always watchable. Even if the script could occasionally go for a head shot, rather than always targeting below the belt.
• Action Team starts with a double bill on ITV2 at 10pm tonight.
Review date: 5 Mar 2018
Reviewed by: Steve Bennett
Recent Reviews
What do you think?