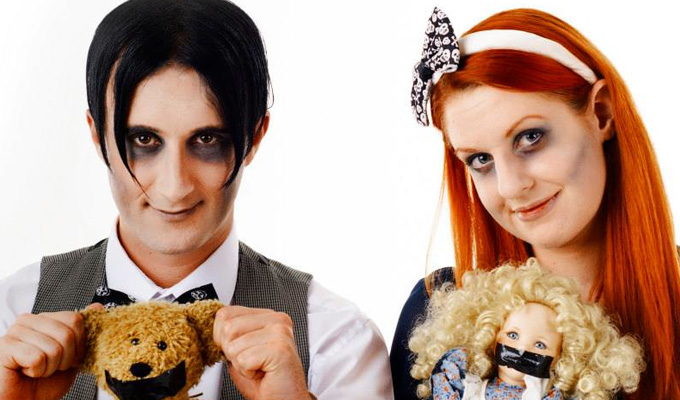 The Greatest 50 Films In 50 Sketches
Forget the Oscars, THE biggest cinema-based event last night was surely The Greatest 50 Films In 50 Sketches, an assembly of acts penning bespoke five-minute routines based on a crowdsource list of the best movies of all time.
There weren't 50 acts, though, as some didn't show up to the gig at the elegant Mirth, Marvel and Maud in Walthamstow, North-East London.
And of those that did, not everyone had gone to the trouble of actually watching their allotted film. Not to worry, cheery amateurism was the watchword, a tone fostered by initial MC Richard Sandling to bind the audience in a spirit of resilience in the face of cheap props and unpolished material as they settled in for the very long haul.
But Sandling is also a die-hard movie buff, dropping in occasional factlets and using movie quotes for call-and-responses, ensuring the tone was also celebratory, both of the source material and of the comedians' putting their own take on it, their varied comic voices very clearly defining each skit.
As opening act, Will Adamsdale got to use the 'haven't actually seen it' gambit first, subverting the event's premise just as it begun, while modestly protesting that he shouldn't be considered bottom of a six-hour bill. He came across like a WASPish Woody Allen, fretting about giving off the right intellectual signals on the topic of The Seven Samurai.
Flora Anderson adopted the persona of Seccy Social, the social secretary of a university drama society over-ambitiously attempting to stage Trainspotting ('Does anybody have access to a baby?') and suggesting the student thespians go full Method to understand junkie life.
Gein's Family Giftshop supplied the first filmed sketch; a silly parody of Psycho, introduced with several hilariously misguided attempts at an Alfred Hitchcock Presents preamble. Later Simon Lukacs, whose Gits & Shiggles outfit was staging this charity gig, presented another video with the aid of Charlie Dinkin: putting himself in the other side of the conversation with Robert De Niro's Taxi Driver.
Paul Duncan McGarrity drew the short straw and was asked to be funny for five minutes about Schindler's List, so took the only option to him and spoke about how impossible any jokes were to make; Eleanor Morton turned Se7en into a cheesy open-the-box gameshow while talking serial killers – the one aspect Deal Or No Deal was clearly missing; and no prizes for guessing which movie Elvis Dead creator Rob Kemp tackled, offering a clip from his cult stage hit.
Sara Pascoe offered a critical analysis of her movie, Apocalypse Now, delivered in the form of a school book report to make it funny yet still getting the point across of how she hated its macho glorification of war. She also covered the slot the absent Steen Raskopoulos should have had, describing how he would have tackled Good Will Hunting, with somewhat less success.
Jordan Brookes hadn't seen Korean noir thriller Oldboy, but it's hard to think his set – which he largely used to reclaim a fiver Chortle owed him – would have been any funny if he had.
Adam Larter was wonderfully cheap and cheerful with his rendition of the Dark Knight, playing both Batman, with the help of a daft cardboard mask, and The Joker, signing what should have been this theme tune from the Steve Miller Band. Ali Brice lent a hand as what was surely the third most important character in the movie: the pencil. Later Larter would help out in Brice's skit, offering a very literal interpretation of No Country For Old Men.
In contrast to Larter, sketch trio Sleeping Trees put some budget into the punchline of their rendition of Jurassic Park, making it an expensive afternoon out for them. Luckily it was a very good joke... otherwise they might well have just donated what they spent direct to anti-landmine charity The Halo Trust, the beneficiary of this fundraiser.
Alison Thea-Skot offered us Alien from the alien's perspective; Dan Lees and Neil Frost (aka The Establishment) took on Lawrence Of Arabia with a nod to the Wilson, Keppel and Betty sand dance plus some rather self-indulgent deconstruction. Then Thom Tuck started to make some genuine points about Mulholland Drive, but ended up singing in Spanish – as weird a segment as the film he was critiquing. Matthew Highton's Spirited Away was baffling too, and I'm not sure it's just because I hadn't seen the film.
The Shining was a perfect match for the Twins Macabre's dark sensibilities, and the duo, pictured, had great fun recreating key scenes with a very willing audience member.
And all that was just first 38 per cent of the show…
Review date: 5 Mar 2018
Reviewed by: Steve Bennett
Reviewed at: Mirth, Marvel & Maud
What do you think?