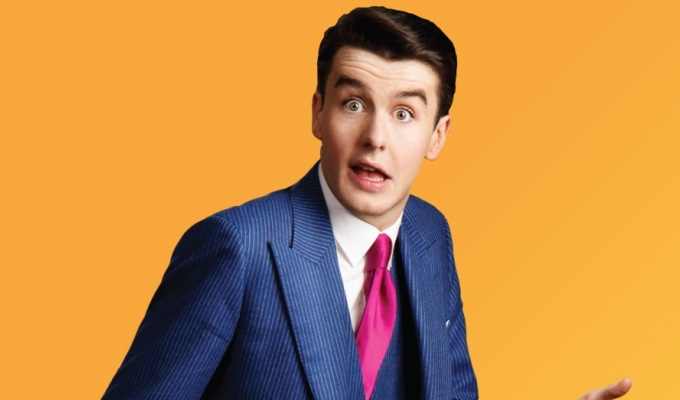 Al Porter in: Campus Maximus
As if Al Porter wasn't already committed to camp comedy, Edinburgh's most showbiz comedian has ramped it up for his latest show, Campus Maximus. As per the title, his set is Roman-themed and is an unambiguous nod towards Frankie Howerd's Up Pompeii.
To add a dash of cabaret, he has a warm-up act that performs Build Me Up Buttercup (no comedy here yet, just sing-song), and the band sticks around onstage to laugh at Porter's jokes and be his foil as he swivels round on his chair. It's almost as if he wants his own TV show or something.
Porter himself arrives onstage from the back of the room, dressed as a sort of Dracula figure. He picks out youngsters from the crowd and lambasts their parents for exposing them to his blue routines. This is all very well, but it's at least ten minutes before we get any material, which is a bit of a swizz when the whole thing is only an hour long.
The whole thing feels a bit thin, in fact. What it lacks is precisely what was best about his award-nominated 2016 show, and that's killer, substantial anecdotes that revolved around one clear event, and which show off his masterful storytelling abilities.
Instead, Porter can't seem to settle on anything except his stool, digressing and getting distracted from his own anecdotes. The relentless interruptions to be sexually aggressive towards an audience member is part of his act, but even so, focus, man!
Not that Campus Maximus is without its funny moments. His speculation about kinky sex for older people (after his mum claims she's kinky) is a hoot. His routines on his parents provide the funnier moments, in fact, like his mum pretending to be posh for the sake of a TV crew visiting the house, and his dad's trick of giving blood to get a Guinness. I also enjoyed his material on getting a boyfriend just at the wrong time, ie just as he was getting famous.
There are a few 'proper' stories like trying to nick some food from a party with Graham Norton et al (clang! name drop) and taking part in a 'gay boxing bout' for charity (mainly to outdo Mrs Brown's Boys creator Brendan O'Carroll), but they don't hit home as much as you might expect. His big finish is outrageously camp and fun but it papers over a few cracks.
A word about the set-up of the room, as I think this genuinely contributed to the fact that the atmosphere was surprisingly flat. When it comes to comedy venues, short and wide beats long and thin (forgive the innuendo, but this is an Al Porter review), and the Underbelly's Cow Barn is just that. It's also high-ceilinged, so all the laughter gets lost. The final nail was that Porter's mic was up so loud, you could barely hear anyone else laughing, which I think makes a difference to audiences really letting themselves go. For 60 minutes (read 50 minutes) he just shouted into a void.
I doubt any of Porter's fans went home disappointed. If anyone has a handle on their brand, it's him. And Campus Maximum will I'm sure tour successfully and nudge him up the showbiz ladder a few rungs. But with a bit of care and attention this could have been a much, much better gig.
Review date: 18 Aug 2017
Reviewed by: Paul Fleckney
Recent Reviews
What do you think?