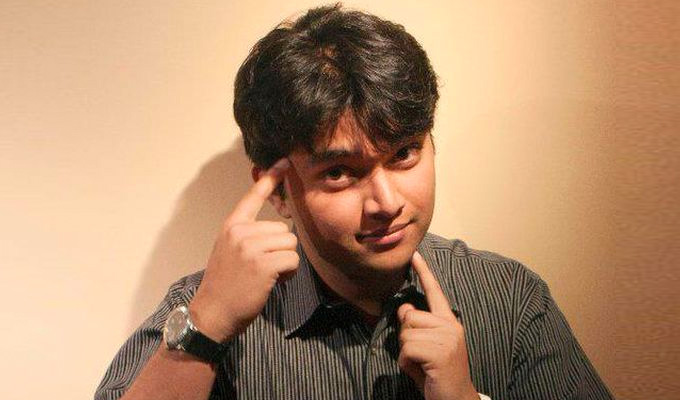 Sid Singh: A Singh in the North
Sid Singh seems to lack firm convictions, which can be a boon for a comic eschewing conventional thinking, but a hindrance when a show isn't quite going the way he hoped.
Committing the cardinal sin of suggesting he's bombing, when he really isn't, he plants the seed of doubt in your mind and begins a cycle of negative self-confirmation with the crowd that comes perilously close to flatlining the show.
Because in truth, the audience, aware of its modest size in a large venue, was appreciative but understandably quiet this afternoon, perhaps not giving the American quite enough of the love he felt he deserved.
He's a problem child and not just to his well-intentioned but misguided Indian father, who would go to great lengths for his son's financial security but doesn't know the first thing about him. With a paper-thin division of insecurity and arrogance, Singh has plenty of original ideas, even if his tales of the few occasions he's taken drugs are as inconclusive as the effect they had on him.
One such story, in which he tries to blag his way into a party at San Francisco's Sketchfest, after failing to get into the festival itself with a smidgeon of lingering resentment, betrays a curious sense of entitlement when he gets separated from his friend.
Though part of a broader justification for taking MDMA on a night of successive disappointments, the bitterness he feels towards Mad Men star Jon Hamm, a random bystander whose fame he exploits but who justifiably doesn't want to get involved in the situation, is just plain weird.
And when Singh tells you that later that same evening he's also snubbed by his hero, the comic Jason Mantzoukas, you find yourself thinking the fault may not entirely have lain with The League star. And this is despite Singh claiming tenure on how to deal with celebrities.
What's frustrating is that the role of chippy wannabe suits him quite well and by not going too far, he'd be a redoubtable act. Very funny on why the rich Catholic kids who bullied him at school deserve to still be lording it over him, he's also wittily self-deprecating, wondering how many notches on his bedpost he needs to appear a sexualised person, putting his lack of success with women into the context of California's libido as a whole.
He has a compelling gym anecdote in which his lustful glances towards a fellow exerciser and a tense stand-off sees him cannily play the race card. And a tale about him dying at the Birmingham Glee club, which, while overlong and not quite as dramatic as he believes, does contain an amusing, practically uncredited, cameo from Patrick Monahan, only reinforcing his reputation as a compere.
An atheist who suspects he's backed the wrong horse after a series of misfortunes, Singh reveals that he still wants his reward in heaven for not taking advantage of a pair of drunk women. The self-aware hypocrisy here is appealing but it still tends towards virtue signalling. He probably ought to abandon trying to be likeable, as paradoxically, he's more likeable without it.
Review date: 8 Aug 2017
Reviewed by: Jay Richardson
Recent Reviews
What do you think?