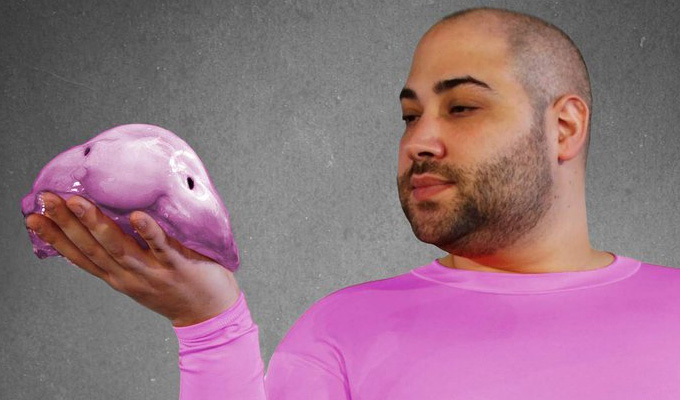 Scott Barnett: Quantumly Entangled With A Blobfish
If there was an award for the most intriguing and memorable titles of the Fringe - and it's surely only a matter of time, since there are gongs for pretty much everything else – Quantumly Entangled With A Blobfish must be up there.
Its origin is with the way Scott Barnett emphasises with the ugly-looking sea critters, unloved, facing extinction, and leading an isolated life, venturing away from their bases only to seek food. Yep he's a beta-male comic with self-esteem issues.
He takes to the stage in a snug pink unitard, just to emphasise any physical similarities (as well as parts of his anatomy), while explaining that the anxiety and the negative thoughts that overwhelm his brain make him feel like the sad-sack Blobby no-mates of the undersea world.
Barnett starts from underneath his comfort blanket and leads us through relaxation exercises to find our happy place. It's one of several interactive set pieces that zhuzh up the show, including sock puppet re-enactments, getting someone to read out facts about the blobfish and acting out the instructions of a mindfulness app with a strange twist.
Those he selects from the small audience are generally game. And a good job, too. For without these incidents we would be left with Barnett downloading his misery, dryly reading a list of fears a from his clipboard or outlining the bleakness of his life, so abject that he can't even sustain a relationship with a sex doll, which corroded away.
Barnett often trades stand-up comedy for stand-up awkwardness that makes the audience slightly uncomfortable. For example, if you're quipping about infant mortality it has to be really clever or outlandishly sick, rather than a comment that makes us feel a bit sad, as it does here.
Other jokes are obvious switcheroos or don't even seem finished. 'I think that the skateboard is a really inefficient form of transport,' he says, then leaves that thought there, unexplained, irrelevant, incomplete.
Yet because the ups and downs of the mood reflect the ups and downs of his mental state, there are positive moments – fleeting instances of happiness, even optimism, to break the depression. He can be, if not upbeat, at least a little more equanimous than his demons suggest, and has a vulnerability that endears and a small handful of decent jokes.
But when he's not messing about with one of the stunts, he wallows in thoughts that focus too much on his problems, and not enough on how they might be made entertaining.
Review date: 7 Aug 2017
Reviewed by: Steve Bennett
Recent Reviews
What do you think?