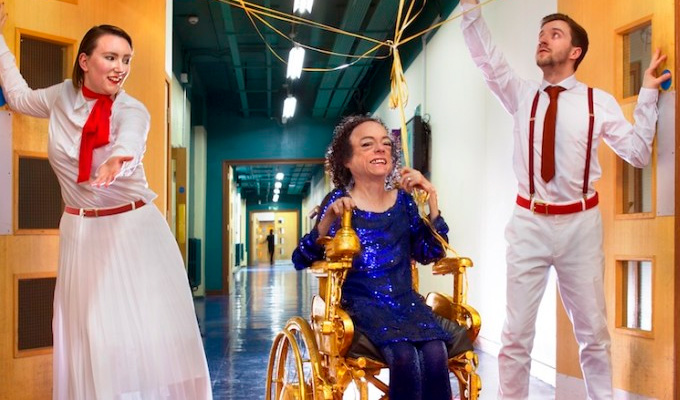 Liz Carr: Assisted Suicide The Musical
The title's not a spoof. This really is an all-singing, all-dancing musical – at least in part – about assisted suicide. Or as Liz Carr calls it 'a TED talk with show tunes'.
That is an accurate a description as you can hope to get, for the subject matter is so serious, and Carr's opinions on it so passionately held, that this can never be a light comic romp. Certainly, she's been careful not to cause offence, too, unless you fundamentally believe the whole topic to be beyond comedy.
Instead, she makes her arguments and drops the sometimes uncomfortable facts, then leavens the mood with a sketch or jaunty number to make things more palatable.
Carr suffers a rare congenital joint disorder, and most of the time when you see someone like her on TV talking about euthanasia, it's making a plea to be given the right to die. That such choice should be available is the default liberal position, too, lining up against the religious conservatives. But Carr is actually an unstinting campaigner against the legalisation of assisted suicide – and even if you disagree with her on the way in, you will at least have doubts on the way out.
Her primary argument is when the right to die becomes a 'duty to die' amid pressures 'not to be a burden' on carers or an overstretched health service take an insidious hold. After all, a one-off lethal cocktail of drugs is so much more cost-effective than a lifetime of care and expensive pharmaceuticals – an unpalatable truth that's ripe for jet-black humour.
Equally of first-hand concern to the comedian and actor – a star of the BBC's Silent Witness for the past four years – is the 'quality of life' argument. Many non-disabled people, she believes, might think they would want to end their lives if they needed the level of daily support she gets. But she convincingly argues that not being able to wipe her own arse has not stopped her from living a rich, fulfilling life.
There is plenty of food for thought here. But how does Assisted Suicide: The Musical stack up as a show?
Well, it's certainly fascinating, and frequently fun. There's a lot of information and opinion to impart that slows the pace and quells the mood, particularly in the first half, but once Carr opens up more about her personal experience as opposed to the intellectual abstract – and reveals herself to have a useful singing voice – things ramp up.
There's a dry wit running through Carr's monologues, and although they are far too poignant and weighty to be considered stand-up, they are persuasive contributions to the debate.
Some of the songs and sketches are laboured as they put points over comedy (the brainstorming of more palatable euphemisms for assisted suicide particularly), but others put an enjoyably light spin on the deadly serious topic. There's also a delightful and thoughtful breakout monologue from veteran New York actor David James, plus a nicely unexpected coup-de-theatre that provides a sharp challenge to Carr's views.
Structurally the show can be bitty and repetitive, but it's a fascinating argument, and there are usually laughs alongside the talking points. The take-out feeling is that Assisted Suicide: The Musical is an important show that fills in a lot of detail on a massive topic – and makes the information not just digestible, but entertaining.
Review date: 8 Apr 2017
Reviewed by: Steve Bennett
What do you think?