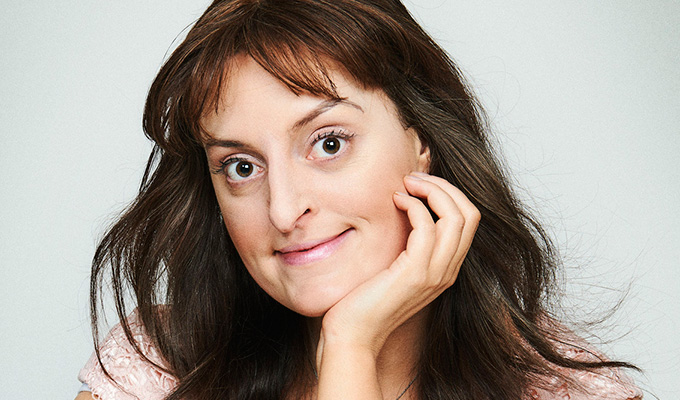 Morgana Robinson's The Agency​
It seems simplistic to call The Agency an impressions show. For Morgana Robinson is less a straightforward mimic than she is a caricaturist, creating exaggerated characters only loosely based on celebrities' real personalities. 
And this is a fine format for her talents. Although ostensibly a sketch show, by making it a mockumentary based around the clients of a fictional showbusiness management company, the producers and writers have given themselves reason to return to each creation, letting each develop storylines of their own.
For example Mel and Sue – both played by Robinson via editing trickery – are depicted in an unhealthy co-dependency. Mel's marriage put under the strain of having her cheery, studenty chum sharing the couple's home, never allowing them privacy, while Sue is shown as manipulatively controlling, never wanting to lose her BFF.
The stand-out in terms of accurate impressions is Fearne Cotton; but in terms of great characters it's EastEnders star Natalie Cassidy, whose life here is shown as decidedly bitter-sweet, with buckets of heartbreaking pathos amid the laughs. She's an ever-optimistic, good-natured doormat, dedicated to caring for a lazy father and exploited by a selfish sister, but always battling on with a  cheerfulness that verges on the poignant.
Cassidy's not a new impersonation for Robinson, but she's developing into a rounded, fascinating character, whom every viewer will be rooting for. Indeed one episode later in the run is dedicated entirely to her story: a soap opera in itself.
Robinson returns, too, to another soap actor of simple emotions, Danny Dyer, whom she also previously mocked in Very Important People and Star Stories. Here he's in his shed, putting Herculean effort into a kids' book, which for him means baring heart and soul. His rhyming-slang infused Cockney banter should ensure plenty of giraffes.
Other impressions are more hit-and-run, such as Gregg Wallace instantly deciding what he does and doesn't like… a good gag, but hardly substantial. But like most of Robinson's alter-egos, he's gleefully happy in his lot – the brilliantly tragic Cheryl an obvious exception. The Agency is far more often a celebration of the celebrities than it is a skewering. Take, for example, an enjoyable extended sketch in a later episode with Joanna Lumley living glamorously,  enthusiastically and expensively, even when confined to a budget hotel, gushing gaily at every new discovery.
There's a strong running joke about Miranda 'oh what japes!' Hart being desperate to be taken seriously… but when agent Vincent Mann (Caan Clerkin) wrangles her a role in a Royal Court production (with comic Liam Williams playing her leading man) she cannot curb her pratfalls, and pantomime gurning. Robinson gets to do slapstick comedy while gently teasing Hart for doing the same: a win-win.
The joy of The Agency is that all these are characters you want to return to, rather than each reappearance seeming like a needless rehash of the same joke, almost every other sketch show's Achille's heel.  And the impersonations are (mostly) done with affection, even while eroding each subject's credibility with their teasing. In short, this is an Agency you'll want to sign with.
• The Agency starts on BBC Two at 10pm tonight. Morgana Robinson speaks about the show here.
Review date: 26 Sep 2016
Reviewed by: Steve Bennett
Recent Reviews
What do you think?