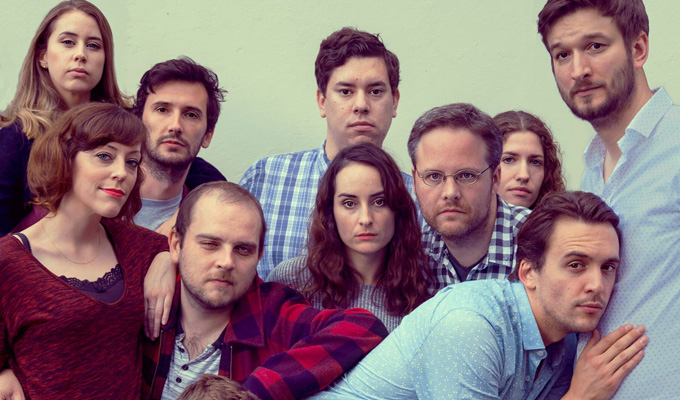 Wunderkammer
The five comics and two musicians of Wunderkammer are doing something a little different with improv. Rather than taking a scenario or just a single word from the audience, they use a TED-style talks from genuine experts as their comic springboard.
So we are introduced to a senior curator at the Scottish National Gallery of Modern Art, who talks to us about gender in art. To say it's a curveball is an understatement. If you're of curious personality then you'll welcome the surprise cultural intervention – but it's fair to say that the talk goes on longer than it needs to for the sake of the comedy that's to follow. It's unlikely an improv group is going to plunder the minutiae of these mini-lectures.
So Wunderkammer has the tricky task of raising the room from zero energy to full rabble-rousing comedy show. I couldn't say it worked very well. The quality of improv was good only in patches, with too many scenes drifting on without many imaginative flourishes or comic flair. They nicely parodied the stubborn traditionalists who shunned women from the art world for so long, as well as the pretentious nature of consuming art as gallery-goers waxed lyrical about the clever art installations 'canteen' and 'queue'. Nobody, they concluded, knows what they're doing when they look at art.
Wunderkammer is part of the Free Association Presents... series of improv shows at the Counting House, but in comparison to Box Set DVD, which was in the same slot last week, the pace and energy was lacking. Wunderkammer didn't have the same sense of drive and adrenaline to get the show going.
The second talk was from deputy editor of feminist publication Standard Issue, co-founded by Sarah Millican. Wunderkammer got caught in too many ruts with this one, falling back continually on the admittedly excellent theme of cake to get them out of holes. When that went stale, their neural pathways got stuck on the idea of one of them trying to fly a kite, which wasn't pulling much weight as a relevant metaphor, either.
Doing improv is hard enough, let alone improvising a series of satirical sketches about gender inequality; they might be better off choosing subjects that are a bit more intrinsically amusing.
Unsurprisingly they gravitated towards filth. I can hardly blame them, and before long they happened upon the idea of surprise blowjobs – bingo. They certainly had some fun with that.
Meanwhile, there was an elephant in the room throughout. Both guest presentations spoke at length about institutional sexism, which made it very odd to then watch an improv group that consisted of four men and one woman.
Review date: 19 Aug 2016
Reviewed by: Paul Fleckney
Reviewed at: Laughing Horse @ The Counting House
Recent Reviews
What do you think?