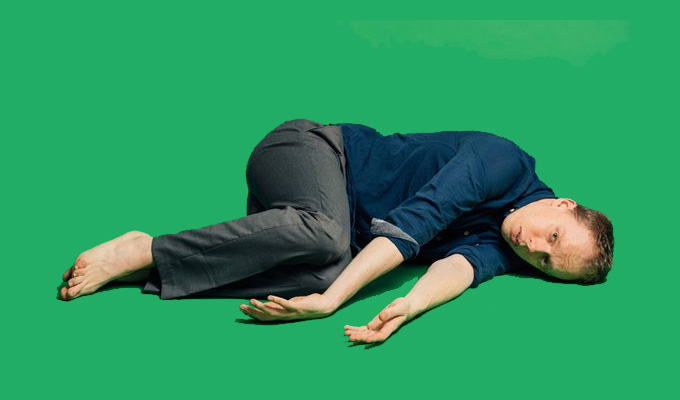 Jordan Brookes: The Making Of
Jordan Brookes had something of an under-the-radar success at last year's Edinburgh Fringe, with a debut rightly acclaimed for its inventiveness but not quite picking up the momentum to translate into a bona fide Fringe breakthrough.
It would be a shame if the same happened this year, for The Making Of is a highly inventive one-man sketch show that doesn't sacrifice laughs for the sake of artistic stretch. But it's hosted in a venue that's just slightly off the beaten track.
The show is set up as a look into the performer's personality, from the familiar story of a lack of parental love driving him to seek affirmation in the approval of strangers, to what he euphemistically calls a 'gap year' but which others might see as a breakdown, to the well-worn idea of the fake smile to reassure the audience that everything is fine.
Underpinning it all is an essential lack of confidence; the way he adopts a silly voice to distance himself from the truth of what he might be saying, or the insecurities he feels when he looks at himself in the mirror, which takes us into darker areas of his psyche as well as new territory about perception: how he's seen by both himself and others.
The themes are ever-twisting, and usually philosophical. His idea of getting an audience on side is to ask them: 'Who thinks they are ready for grief?' It's not exactly on a par with the usual rallying cry of: 'Who's drinking tonight?'
But talk about the ideas should not detract how funny this is. Brookes can write a nice line, but his forte is as a compelling physical performer who puts his all into everything. Repetitions, such as his demolition of the aims of a real gap year are made brilliant by his increasing desperation. And he has the most audacious and spectacular way of giving his audience the finger. There are even little tricks such as the double-take looking at his watch in disbelief that he makes as funny as any golden-era silent star.
He cleverly uses cinematic tricks such as leaping backwards and forwards in time or going into slo-mo replays to reveal unseen Easter eggs, conceptual sleights-of-hand which keep the audience on their toes. The whole show is pretty meta, with layers of detachment to be dealt with, which occasionally slips into being a bit too smarty-pants – but then Brookes will do something to mock that and away we go again.
He is not a comedian short of ambition, nor of the wherewithal to perform his grand ideas expertly. If he'd been in Cambridge Footlights, his future would surely be predetermined… but let's hope a graduate from Newport can catch a break too.
Review date: 16 Aug 2016
Reviewed by: Steve Bennett
Reviewed at: Laughing Horse @ The Cellar Monkey
What do you think?