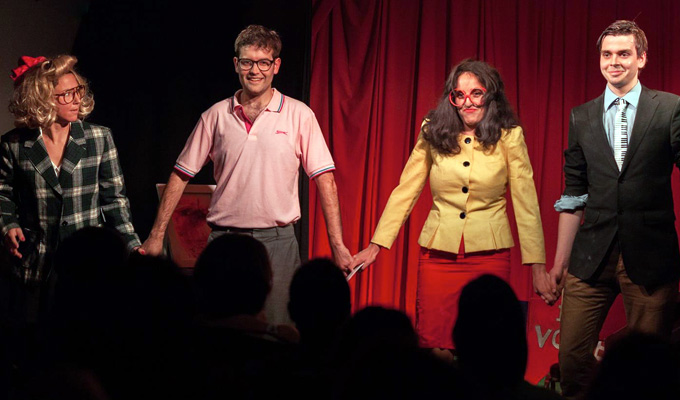 Adam Larter's Return On Investment
Adam Larter is one of the most prolific people in comedy, banging out an steady stream of alternative shows for the Weirdos comedy collective. His Fringe offering, Return On Investment, is basically a Weirdos Lite – all the same tacky props, stupid pastiche and arsing around – just with fewer people.
Inspired by naive student productions, the 'play' is set in the corporate 1980s, when business was king. Larter boasts a ponytail and a white suit (sleeves rolled up, of course) over a pink polo shirt, the Miami Vice look perfectly befitting a go-getting, cocaine-snorting entrepreneur pitching for a lucrative rebranding contract from Mr Potatoes and his fish and chip shops.
He's hoping to be so successful he can afford that ultimate status symbol, the microwave, but that may mean taming the party lifestyle of his top sales rep, and clearing the expenditure with his co-owner, a woman. Because in the 1980s women can do business too.
It's a glorious mish-mash of clichés from the era, recreated with a period soundtrack, gallons of chutzpah and cardboard props. Even items easy to get hold of, like Pepsi cans or coffee mugs, come in glorious 2D.
Larter and co-stars Joz Norris, Marny Godden and Lucy Pearman know that ridicule is nothing to be scared off, and ham up their already cheesy roles. The scenes become anarchically preposterous as each actor tries to out-stupid each other, while still holding a loose grip on the parodic,over-the-top scripts.
While most the scenes are funny for their sheer knockabout stupidity, Larter is not so bothered by joining the dots, so the narrative tends to go by the wayside; either forgotten or randomly advanced just to lurch to the next scene he had half an idea for. A drive-thru, why not?, or a bowling alley. But in each skit, the randomness is played infectiously well and there are flashes of mad invention throughout.
The raucous anarchy could do with just a little bit of professionalism and direction, not to lose that joyous playful essence but harness a bit so the energy doesn't splutter out with the story. Let's not ask for too much, but maybe stand in the light and not talk over each other, for starters.
But even with its flaws, the carefree abandon of the venture, and a decent supply of daft ideas mean it's a pleasure doing business with Larter and his cohorts.
Review date: 15 Aug 2016
Reviewed by: Steve Bennett
Recent Reviews
What do you think?