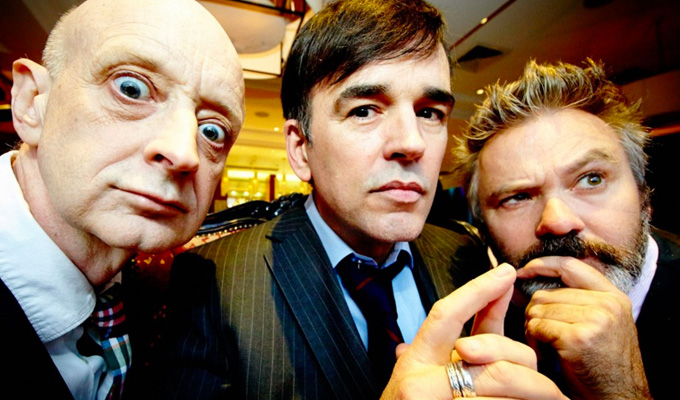 Doug Anthony All Stars (DAAS) Live On Stage
It's pathetic really. A comedy band who once tore through Edinburgh on a whirlwind of hedonistic depravity and youthful vim reduced to this desperate attempt to cling onto the threads of that faded reputation. They are old and/or frail now, as are any fans who still hold any flicker of memory of them, yet they shuffle out for one final asthmatic hoorah, a cynical cash grab in which the sad old men tell dirty jokes as if they were still in any way shocking or relevant.
That, at least, is the back story Australia's Doug Anthony All-Stars would have you believe, that after everything else turned to shit, charismatic frontman Paul McDermott was determined to have his moment in the sun again, 25 years after his last Fringe run. So he got the old band back together to recapture just a glimmer the long-gone youthful excesses. He drags out Tim Ferguson, now in a wheelchair because of his multiple sclerosis, against doctors' orders. But original guitarist Richard Fidler won't have any part of such a cockamamie scheme, so is replaced by an actual pensioner, Paul Livingston.
Luckily, the reality is very far from this. The trio may have lost one of their members, but they've not lost the spark. And it turns out that, if you do it right, there's still a lot of mileage to be had in old blokes telling jokes about fisting – or disabilities.
Yes, Ferguson's illness is used as an access-all-areas pass for the most offensive and obnoxious insults. There's an audaciousness to the bad taste that draws gasps among the guffaws from an audience more used to pussyfooting around disability. Outrageous it may be, but it's cathartic to be given licence to laugh at the taboo topic.
And they get away with it because of the palpable love between Ferguson and McDermott. What do friends do, at least in the UK and Australia? They viciously rip the piss out of each other. So the real insult to Ferguson would be NOT to mock his affliction.
He's an enthusiastic participant in the jokes, incidentally, it's not all one-way. He gets primal laughs from looking more disabled than he is, egged on by McDermott, who suddenly admonishes the crowd: 'Just stop for a second and think what you're laughing at.'
Elsewhere, Ferguson– once Australia's answer to Chris Evans, as host of their version of Don't Forget Your Toothbrush – effects a glassy-eyed reverie caused by his powerful meds kicking in, spark an absurd, whimsical ramblings.
It all contributes to an atmosphere of disruption and mischief, driven by the dynamic between the two old friends, who often seem to catch each other out with their outlandishness, causing each other to corpse. Livingston is rather sidelined to a few bits of physical clowning after an amusingly offbeat intro from his otherworldly alter-ego Flacco.
The dirty banter isn't quite as potent as the more personal material, but the devilry still shines through. And, of course, being a band, there are songs, old classics such as I Fuck Dogs and their Gilbert-and-Sullivan style vignettes about depraved sexual practices, plus new ones such as Us and Ebola (to the tune of Lola). Personally, I wish they'd done KRSNA, but a boy can't have everything.
Their lyrics aren't the most inventive thing about the troupe, but they can certainly sing, and the songs have a surprisingly emotive power. Actually, the funniest was an apparently straight rendition of Brendan Behan's The Auld Triangle, with a great visual gag running through.
Given this is likely their Edinburgh swansong, there can't help but be a touch of poignancy behind all the dick jokes. This is well-executed via their haunting Warsong, performed as an original video played behind them, McDermott and Ferguson's former selves haunting them like ghosts. Ferguson closes (more or less) with a 'carpe diem' speech from a man who learnt the hardest way that the time you have to do everything is finite. If you think this might be mawkish, you don't know DAAS at all, but it is effective.
Seizing the chance to see the All Stars while you can, either in their last two Edinburgh appearances, or at the Soho Theatre next week, is certainly sage advice. Don't and you will not only miss forever the chance to see Fringe legends on British soil; you'll also be missing a transgressive ride, packed full of raw belly laughs, whether you remember them from the first time around or not.
Review date: 13 Aug 2016
Reviewed by: Steve Bennett
Reviewed at: Pleasance Courtyard
Recent Reviews
What do you think?