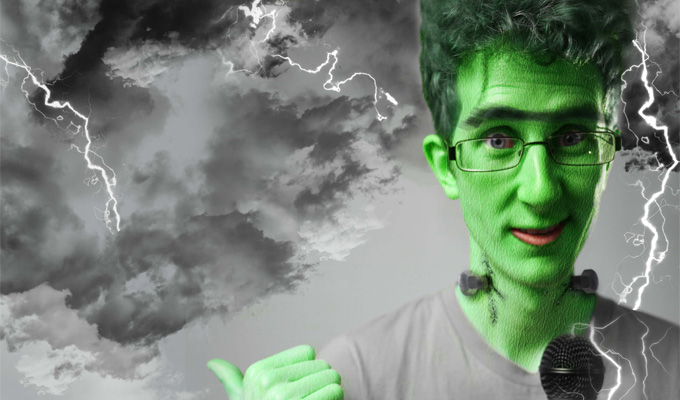 Jack Heal: Frankenstein's Love Monster
Jack Heal is the forgotten winner of the Chortle Student Comedy Award, triumphing over someone called Simon Bird back in 2008. Now he's in a tiny venue, overwhelmed by noise leaking out from the rambunctious quiz next door, performing to an audience in single figures.
Against such odds he recounts a tale of mysterious goings-on in the 'otter combs' below the zoo where he works combined with an ill-fated romance. The script is packed full of jokes, a mix of literal pullbacks and intricate parcels of highly original wordplay that demand your attention to unpack.
Much of it is of the punning style: 'A man loomed over me. Then he put the loom down' that stretches back to the Goons and before, while others are cleverer, piling on tag lines until we've come a long way from the story and Heal needs to guide us back.
But as a low-key performer, he hasn't really got the storytelling chops needed to bring such a densely scripted story to life. Despite recordings of the other characters, a flipboard for the more visual jokes, background music and a couple of stilted physical touches inspired by his GCSE drama lessons to enliven proceedings, the delivery is flat.
He finds it hard to build up the momentum and audience involvement needed, partly because of this low-status approach and partly because a lot of jokes stop the story dead rather than advance it. While individually the lines might be a delight, the relentless nature starts to work against a longer-form narrative.
Still, he demonstrates a fertile comic mind – but possibly one best suited to 'punching up' someone else's script with extra jokes rather than stringing together a long story of his own.
Review date: 31 Aug 2015
Reviewed by: Steve Bennett
Reviewed at: Laughing Horse @ Cabaret Voltaire
Recent Reviews
What do you think?