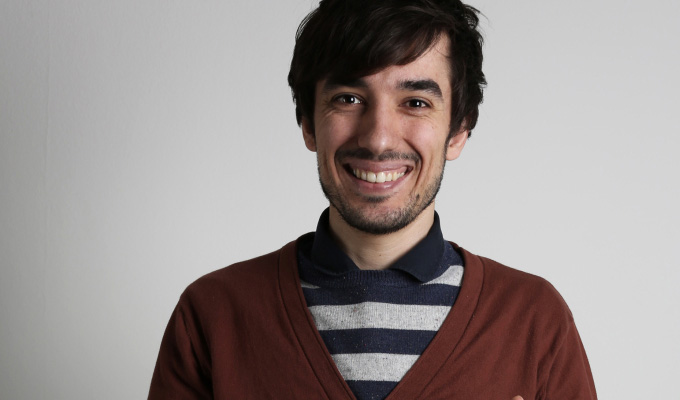 Amir Khoshsokhan: Milk And Hedgehogs
I don't know how or when Amir Khoshsokhan came to decide upon his onstage persona, but it was a pretty perverse decision. You could argue that what he does is anti-comedy. Not because he dispenses with all conventions of how to make people laugh – he has jokes and funny stories, he just tells them … very … slowly … and … shhh … very … quietly. Any old-school club promoters who saw Khoshsokhan might be forgiven for thinking that comedy had gone off its nut.
But Khsoshsokhan gets it to work. His short slots have served him well in new act competitions, and it actually works quite well over 50 minutes, too. Sometimes very well indeed.
For such a featherlight act, the Espionage's Mata Hari room is not ideal, with its tendency for having people wandering around outside and its unforgiving acoustics that relay their every move. But those inside the room are caught in the moment. When Khoshsokhan gets onto a story that works, such as his conversation with his girlfriend about going out, or their steamy night of roleplay, his comedy is hypnotic.
A byproduct of his minimalist style is that the merest flicker of his face or variation in delivery feels like a gift. When you get a good line, it's water to the thirsty. And he does have plenty of good comic moments – he wouldn't get away with his style if he didn't. The roleplay routine is a stand-out, and he has a cheeky piece about how people are too quick to be seduced by confidence.
This being mainly a show about relationships, and the breakdown of his, there is plenty of material on the politics of lurve, which is mainly thoughtful and insightful but occasionally strays into the unoriginal. There are a few jokes that rely on the easy reveal of – oh, he was talking about his mum/sister/etc! Hopefully Khoshsokhan will ditch that crutch when he's a comic with more material to play with.
As debuts go this is a really intriguing one, and while it's still questionable how far his severe style could take him, Khoshsokhan shows he can get it to work over a long period. It's a show that marks him out as a unique comic who looks capable of taking it to the next level.
Review date: 29 Aug 2015
Reviewed by: Paul Fleckney
Recent Reviews
What do you think?