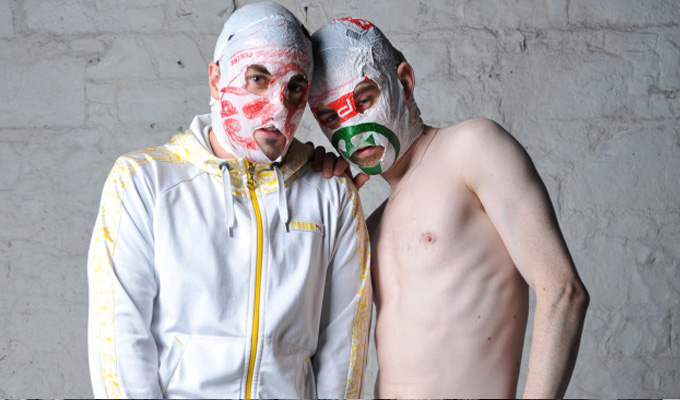 Rubberbandits: Continental Fistfight
Note: This review is from 2014
With their tracky bottoms and feckless attitude, Irish musical reprobates the Rubberbandits could have come from Limerick's equivalent of Benefits Street. Yet it's London's 'Saha' Theatre where they seem to be pretty much resident these days, returning to its basement for their third show in a year. So familiar are Blindboy Boatclub and Mr Chrome with the capital that their return is set to be a full-on musical about ole London town, complete with jaunty heel-clicking chimney-sweeps. Only problem is their pisshead sidekick, Willie O'DJ, (wearing, as always, a mask of former Irish Defence Minister Willie O'Dea) seems to have wiped the backing tape…
Nonetheless, the earthy rap duo, instantly recognisable by the identity-concealing plastic carrier bags wrapped like Mexican wrestling masks over their heads, unveil a substantial amount of new material in their new show, Continental Fistfight. But a few fan favourite foot-stompers inevitably form part of the the mix too.
For all their fighting-and-fecking image, the lads are surprisingly PC, subverting their own backstory. The Abortion Song is nowhere near as hideous as you might fear – in fact it's hilariously noncommittal – while Fellas, sang with exquisite randomness by a puppet Gabriel Byrne, is an expletive-filled celebration of gay love, reminiscent of Tim Minchin's Pope Song.
Having said, Shift Girls, supposedly promoting the benefits of snogging over sex, plays up to the misogynist image, and is lyrically mixed, with decent jokes mixed with the sort of futile, meaningless juxtapositions that are in that earworm of an advert for Hive heating control – but delivered with swagger rather than twee whimsy.
The comics behind the plastic, Dave Chambers and Bob McGlynn, certainly pack a musical thump, with the industrial-strength tracks forcing their way into your consciousness – it's amazing how catchy their superficially pro-IRA anthem remains. The pounding music is complemented by appropriate visuals on the screen behind them, and ttheir fast-cut video for their latest YouTube hit, the techno-influenced Dad's Best Friend is the stuff of psychotic nightmares.
Another recent release, Hey Mister is simpler in its a mockery of hipster chic, while Fight Me In Mass, previously an online short for Channel 4, tries to recapture some of the lowbred Limerick ribaldry of their best-known song, Horse Outside, which concludes tonight's show. It's not up there, but it's fun.
Between songs, they hold their own, too, with a couple of cheeky nods to the fact their audience are actually knowing comedy fans – including a piss-take of an ubiquitous comedy publicity pose, and some pondering about why the English never pronounce Dylan Moran's surname correctly.
As always their high-spirits make this a grimy gig more than a straightforward show, but the Rubberbandits make pogoing around as funny as it is fun.
Set list:
London Town
Shift Girls
Boyzone (You've Got Nothing To Lose)
Spoiling Ivan
Hey Mister
Fight Me In Mass
Up The RA1!
Spastic Hawk
Funny Looking (Instrumental)
Dad's Best Friend
The Abortion Song
Fellas (feat Gabriel Byrne)
ENCORE: Horse Outside
Review date: 6 Feb 2014
Reviewed by: Steve Bennett
Reviewed at: Soho Theatre
Recent Reviews
What do you think?