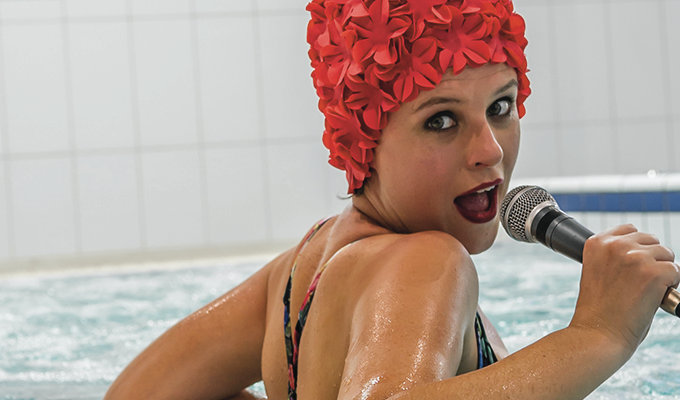 Anne Edmonds: It's Eddo
Note: This review is from 2014
More usually a character performer, Anne Edmonds this year ventures into more traditional stand-up territory – and although her show is a definite slow-burner, her self-effacing shtick eventually hits home in the second half.
Much of the show is about her relationship with her own psyche, especially her low self-esteem. And from the tales she tells of her scheming, sometimes insensitive, mother, you don't need to hold a doctorate in pyschotherapy to understand where that may have come from.
It seems inescapable that Edmonds would sought affirmation in performance, although her odd visit to a New York improv workshop, reenacted here with absurdity and commitment, underlines the sad desperation of the need to please under any circumstances. Putting her insecurities through the brutal wringer of the Edinburgh Festival demonstrates even more mental masochism in the name of her craft.
Stories at her own expense are largely told with a goofy 'what am I like?' grin that softens rough edges and endears her to us. She may be a borderline weirdo, but at least she's a self-aware one, and that kinda makes it all right. And when she tells a tale of the most abject humiliation on a date, we remain on her side.
The personal stand-up, which play to her strengths, is punctuated with a couple of deliberately irritating songs such as The Longest And Worst Song Of All Time. It's wilfully indulgent, with the joke on the audience for having to endure it. Less awful texture comes from the introduction of characters such as the 'busy aggressive mother' – an archetype everyone will recognise – and her discovery that she can sing in a decent faux-operatic voice.
It's Eddo is a bit of an uneven ride, but eventually her daft, unselfconscious charm and the strength of the most awful, psychologically damaging stories win through. This feels like a transitional show for a thirtysomething still relatively new to comedy, but developing in the right directions.
Review date: 1 Jan 2014
Reviewed by: Steve Bennett
What do you think?