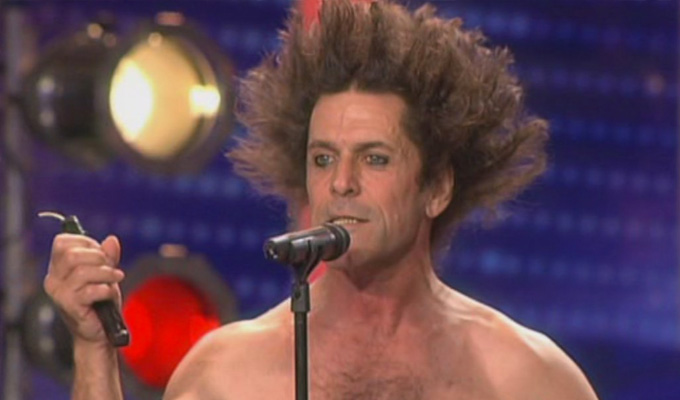 Chris Lynam – Original Review
Note: This review is from 2005
If mere mention of the word 'zany' sends a shudder down your spine, you'd better cut Chris Lynam a very wide berth.
The man's a maelstrom of breathlessly manic energy; very stupid, very destructive and utterly over the top. The sort of act that raises the spirits if you're prepared to throw yourself into the pantomime gusto of it all, or leave you utterly cold if you're not.
He's been a fixture of the comedy circuit forever, it seems, after initially cutting his teeth on the street-performing scene. But while you can take the entertainer off the street, you can't always take the street out of the entertainer.
Thus he loudly harangues the audience, hollering like a barker trying to drum up passing trade, with an act rammed full of big attention-grabbing gestures. With such a dynamic performance, the environment is crucial; what would go down a storm in a Glastonbury tent, where inhibitions are forgotten, is hardly suited to the more refined confines of the Soho Theatre, where Chortle caught his hour-long show Beast Of Theatre.
An hour, too, proves too much for a performance where the energy is perpetually set to overload. The acolyte next to me started the show guffawing heartily; by the end he was sending emails on his BlackBerry.
A major hurdle is that the slapstick mania, however brilliantly it is executed, is out of context, stemming from no real-life situation. Basil Fawlty beating his car is funny because life's frustrations have tipped him over the edge; when a clown like Lynam takes a cricket bat to some fruit, it's forced, apropos of nothing.
Instead, he has to fake frustration with the embarrassed stooges he pulls from the audience to enact some simple tale, extracting bullying laughs from their obvious discomfort at being in the spotlight.
Lynam's certainly an accomplished clown and often feels like a children's entertainer for grown-ups, naughtily letting off fire extinguishers, throwing flour around the stage or stealing a shoe from a man in the front row. It can also feel very dated, planted firmly in the extravagant Eighties ethos of Kenny Everett, where cabaret and comedy were much closer bedfellows.
And some of the laughs are very cheap indeed. With little irony (but with one great sight gag), he strips to end up as a cheap, tawdry tart in buttock-revealing short skirt and ripped fishnets. "Mum," interjects a punter, getting in the mood, and it gets as big a laugh as anything Lynam says.
But the memorable moment that sears itself indelibly on your memory comes, naturally enough, at the finale, on a stage now strewn with the debris of an hours mayhem: wigs, flour, eggs, underwear, streamers, smashed fruits and confetti.
For the encore, he does what we all, bizarrely, came to see. He strips butt-naked, puts a lit Roman candle betwixt his cheeks and screams the lyrics of There's No Business Like Show Business as blinding white sparks shoot 25ft from his rear end. This is the money shot that defies all criticism; what makes him an unfollowable act on any line-up.
But, metaphorically at least, in the full-length show he needs more fireworks and fewer damp squibs.
Review date: 1 May 2005
Reviewed by: Steve Bennett
Recent Reviews
What do you think?