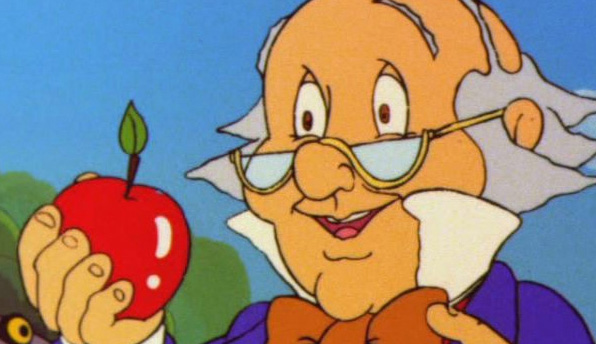 The kids' cartoon written by Douglas Adams and John Lloyd
Douglas Adams and John Lloyd wrote two episodes of an Angl0-Dutch kids' cartoon about an inventor called Doctor Snuggles.
Their work on the short-lived series, which was voiced by Peter Ustinov and aired on ITV, came after Hitchhikers' Guide To The Galaxy had first aired on Radio 4.
But Adams confessed that he took the job for the money since 'the fee for writing the first radio series was miserable – something like £1,000 for the six episodes – which is not a lot for something over six months' work.'
One of the episodes the pair wrote – about a reclusive river – is here:
It was unearthed by blogger John Fleming, who is this week republishing a 1980 interview with Adams.
In it, the writer says of Doctor Snuggles: ' It was quite fun working on that, actually. The writers' fees were rip-off time. But it was immense fun – there were all sorts of things we could do in animation.'
Hitchhikers eventually rewarded Adams, while Lloyd went on to produce Not the Nine O'Clock News, Spitting Image, The Hitchhiker's Guide to the Galaxy, Blackadder and QI.
Published: 6 Mar 2018
Recent Punching Up
What do you think?