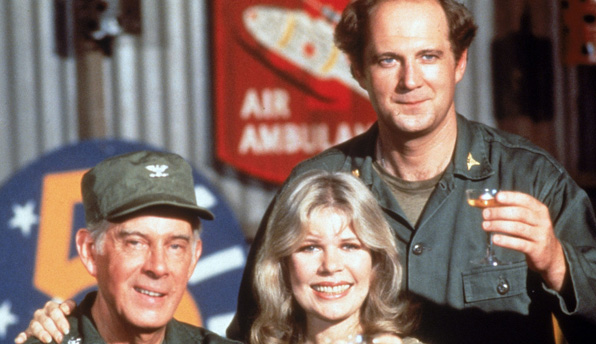 M*A*S*H report
Among the fond anecdotes about M*A*S*H star David Ogden Stiers, who died aged 75, yesterday, one stands out.
Loretta Swit, who played nurse Margaret Houlihan opposite Stiers's Major Charles Winchester, recalled how her colleague brought out real emotion in the last episode of the series.
The plot involved a book of poems Winchester had lent Houlihan… only to get angry and demand it back. In an emotional scene of the final episode Winchester gives Margaret the book back.
Swit recalled: 'In real life, we had this running gag. I would tease David all the time that no one had his private phone number. He was very much his own person, very reclusive in a way. So, in the final episode Winchester gives Margaret the book back. I open it and read the inscription. David had written his phone number inside. That's my real emotion on camera.'
Her reminiscence came in a major Hollywood Reporter feature about the last episode of M*A*S*H, which was seen by 125million Americans as it aired, published last week.
In the article, Jamie Farr, who played cross-dressing Corporal Klinger in the show, and Mike Farrell, who played Captain B.J. Hunnicutt, remembered some of the practical jokes on set.
Once they had Stiers' dressing room painted orange and purple over the Thanksgiving break. But he refused to acknowledge the prank, just telling his co-stars cheerily: 'I've just had my dressing room redecorated. [It's] quite lovely… a fabulous combination of salmon and mauve.'
'It was his way of letting us know he got it, but no one was going to get him,' Farrell said in the article.
• And in other M*A*S*H trivia, there's an asteroid and a tarantula named after Alan Alda: 15131 Alanalda and Hapalopus aldanus respectively
Published: 4 Mar 2018
Recent Punching Up
What do you think?