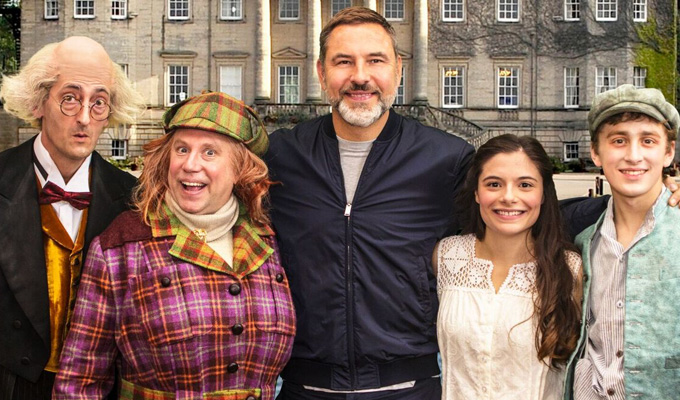 Heeeerere's Aunty!
David Williams may be Britain's best-selling children's author… but the inspiration for his stories isn't always so kid-friendly.
The comedian has revealed that his story Awful Auntie – which has now been turned into a touring stage play – was inspired by Stanley Kubrick's chilling psychological thriller The Shining, in which Jack Nicholson's character turns into an axe-wielding maniac.
He said: 'I am obsessed with The Shining. I wanted to create a horror story where a child was trapped in a house with a dangerous relative, cut off from the outside world.'
But he said that he wanted the villainous Aunt Alberta 'to be funny as much as scary'.
Williams - pictured above with the cast – admits that 'trying to balance the humour with the frightening moments is never easy', but adds that he trusts the Birmingham Stage Company which has adapted the book.
And he says his story comes with a message for adults: Don't lock your niece in a country house, or you may end up being killed by a giant snow-owl.'
The 2018 tour of Awful Auntie kicks off at the Preston Guild Hall and Charter Theatre on January 18.
Published: 5 Jan 2018
What do you think?