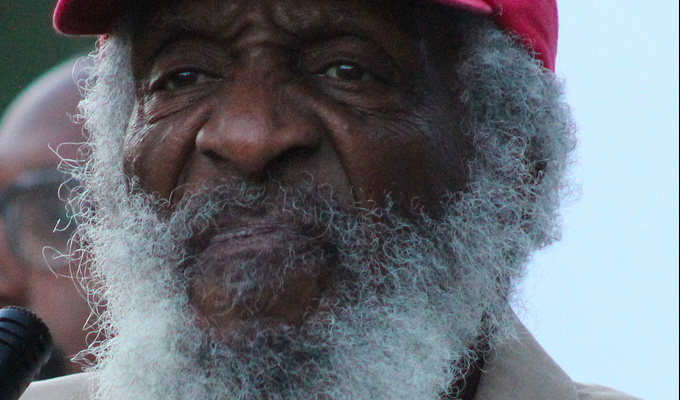 Emmys snub for Dick Gregory
He was a pioneering comedian and leading light of the civil rights movements.
So fans of Dick Gregory were left upset that the late stand-up was omitted from the 'in memoriam' segment of the Emmy Awards on Sunday night.
Gregory died in August after a distinguished career that helped break down segregated audiences and shunned stereotypical characters. And on Saturday he was hailed at a memorial event in Washington that attracted the likes of Stevie Wonder, Martin Luther King III and Ilyasah Sabazz, the daughter of Malcolm X.
But the biggest awards show for American TV failed to acknowledge him in their reel of stars who passed away – although they did find space for Roger Ailes, the Fox News founder who had been accused of multiple incidents of sexual harassment over his career.
Charlie Murphy, the older brother of Eddie Murphy known for his work on Chappelle's Show was also overlooked by the Emmys.
As Daily Show producer Lizz Resisted tweeted: No Charlie Murphy, No Dick Gregory, but the bloated sexual predator Rodger [sic] Ailes.'
Gregory's son Christian Gregory told gossip website TMZ the omission was 'disrespectful' – and that the family had not even been approached for a photograph for the segment.
The Academy of Television Arts and Sciences has not yet offered an explanation for the notable snubs, but they added Gregory and Murphy to their memoriam available online.
Meanwhile, James Corden has been blasted after planting a kiss on the cheek of former White House Press Secretary Sean Spicer at the ceremony. The comic was accused of cosying up to a man who had lied for Trump.
On his Late Late Show last night Corden made light of the incident, joking.'
'These Hollywood phonies kissing up to Sean Spicer are disgusting. I mean, who did this?'
As the incriminating picture was shown, Corden said: 'I know you think that is a picture of me kissing Sean Spicer. But in the spirit of Sean Spicer — no, it isn't!
'To be fair, everyone was kissing ass last night at the Emmys. I just happened to kiss the biggest one there.'
Published: 19 Sep 2017
Recent Punching Up
What do you think?