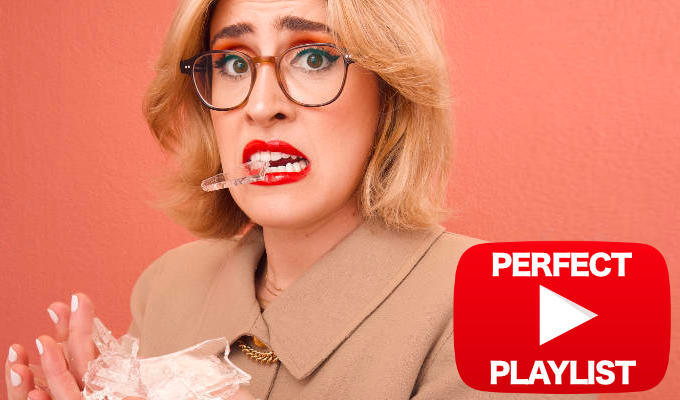 'We are all just lawnmowers doing loop-de-loops in the wind'
Edinburgh Festival Fringe comedian Emmy Blotnick chooses her Perfect Playlist...
How To With John Wilson
When I first started doing stand-up in New York, I'd end up in random neighbourhoods by myself and would go to the dollar store to kill time. I started a running photo collection of sad off-brand perfumes, like a Lady Gaga knock-off fragrance they just called Crazy Lady, or a Sex And The City-inspired perfume called Sex In A City.
John Wilson's show gives you a supercharge of that feeling of discovery, like, 'Did you see that weird thing I just saw?' He's a genius. I loved his interview on Jimmy Kimmel where he explains how he gathers footage. I think he has the world's best collection of dogs shitting on the street, and I hope my dog shits on his show someday.
Pop Star: Never Stop Never Stopping
I'm obsessed with the idea of the 'pop star machine,' all the hidden forces shaping the music we hear at the pharmacy.
I've spoken about the impact of Swedish record producer Max Martin at length and I think the movie Pop Star just completely nails it.
The other day in a taxi I heard a song that sounded exactly like Fuck Off from this movie – it turned out to be the song ABCDEFU by Gayle, which has been streamed literally 700 million times on Spotify. Andy Samberg, Jorma Taccone and Akiva Schaffer should get writing credits.
Bust Down
In general, social media makes me feel bad, but one thing I love is when people film their TVs because they saw something that made them laugh so much. It's kind of the ultimate compliment.
I had the pleasure of working on the Peacock show Bust Down last year and I feel a real sense of pride at how hard this guy is laughing at Chris Redd krumping his way out of chains in protest.
I hope people will subscribe to Peacock and watch all six episodes, but in the meantime, here's this.
I'm done with this show!!!!
#BUSTDOWN
pic.twitter.com/dUzEeeCVva

— Jeff (@JeffVsTheWorld) March 11, 2022
Conan O'Brien during the writers strike of 2008
I love late night shows — I've spent the last decade or so working on them — and the only thing I love more than the format is when it goes off the rails. Conan O'Brien's episodes during the 2008 writers' strike are the perfect example.
About ten minutes into this episode, in the absence of a writing staff, Conan's desk bit of the night is spinning his wedding band like a top while the audience cheers it on. It's magnificent filler.
Flying Lawnmower
What can I say? This is a 14-year-old YouTube video that I revisit from time to time to reconnect with the idea that sometimes, there is no deeper meaning to anything. We are all just lawnmowers doing loop-de-loops in the wind to the dance remix of Cotton Eyed Joe.
Sarah Silverman: Jesus Is Magic (2005)
I love Sarah Silverman, I love this special, I love that it played in actual movie theatres. It's such a rarity! I was too young to go to comedy clubs at the time, but watching this special in a cinema full of people gave me a taste of the experience, and it left a big impression on me. I've since gotten to know her and can confirm she is the absolute fucking coolest.
Laurie Kilmartin - Corset
Laurie Kilmartin is one of the sharpest comics around! I love her album Corset, her Conan sets, and her podcast with Jackie Kashian, The Jackie and Laurie Show. They do an amazing job highlighting female comics and they're both just a damn good hang.
• Emmy Blotnick: The 30 Fragrances of Jennifer Lopez: A Show About Death, Betrayal and Financial Ruin is on at Assembly Studio 5 at 6.40pm throughout the festival.
Published: 6 Aug 2022
What do you think?