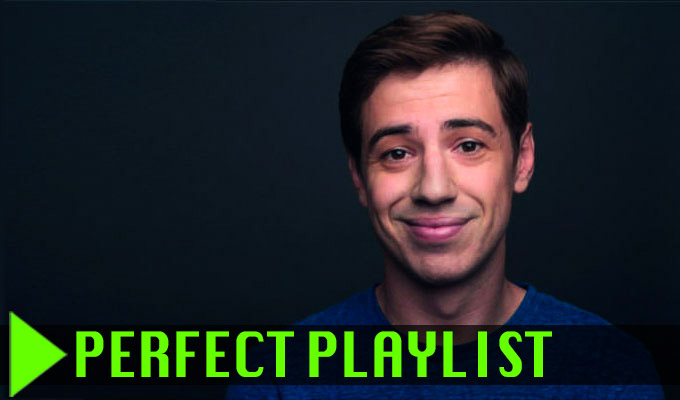 'What a relief and a joy it is to see someone truly be themselves'
AJ Holmes, who spent the last few years travelling the world as Elder Cunningham in The Book of Mormon, shares his Perfect Playlist before hitting the Edinburgh Fringe.
Fleabag
I think pretty much everyone knows about this show by now, but it is setting my world on fire. If you haven't watched it yet, I beg of you – stop reading this and WATCH.
This year, I was lucky enough to see the play the TV show was based on. The timing was perfect. I saw the closing night performance just as I was writing my one-man show, only to learn that Phoebe Waller-Bridge first performed this one-woman show at Edinburgh Fringe.
She is an incredibly funny performer and an even better playwright, with themes that really hit home.
Fleabag is desperately running from her feelings, using sex, love, and connection to distract herself from the healing she so desperately needs. With only six episodes per season, I'm blown away but how elegantly and succinctly she tells the story.
I've always admired British comedy for this reason. They tend to get in and get out, telling one story really well, as opposed to American TV, which can sometimes lose the thread in season after season (of course, there are numerous exceptions).
It's just so nice to be able to slowly savour a show with just twelve episodes in total. This is the kind of show that is equal parts inspiring and disheartening. It's simply too good to have any delusions about creating something at that level.
Just to be in the same festival as this woman is blowing my mind. Now I think I'll go watch something terrible and get my confidence back.
Pete Holmes
I once chased Pete down in the streets of West Hollywood just to tell him we have the same last name, so it's safe to say he's one of my favourites.
Coming from the bright and shiny world of musical theatre, Pete Holmes's energy feels all too familiar to me. I know a fellow people-pleaser when I see one and it's comforting.
His journey — from a traditional Christian upbringing, to his rejection of that faith, to his current path of spiritual awakening in the realm of Eastern traditions —really resonates with me. It's rare that someone is able to talk about and embrace these philosophies without making you want to slam your head against a wall. I don't know how, but he manages to be respectful, profound, and hysterically candid at the same time.
His most recent special is a perfect example of this: he engages the audience in the oddities of consciousness, singing 'Happy Birthday' silently and pointing out that everyone can hear it in their heads at the same time.
He breaks down simple truths in a way that makes you rethink the basic structures of reality. Pete is a true seeker on a path, and I love seeing someone so earnestly trying to discover for himself what this whole humanity thing is all about.
Simon Amstell: Do Nothing
I love this special. Right off the bat, he walks out to thunderous applause, only to finally open with a simple, self-effacing 'Hello.'
It's not what you'd call an original line, but somehow you already know everything you need to know about this guy. He is disarmingly vulnerable throughout the whole hour, sharing his doubts, his anxieties and some pretty deep pain. You can feel his authenticity from the very beginning. He reminds me of what a relief and a joy it is to see someone truly be themselves.
His persona couldn't be more different from Pete Holmes's, but he too talks about the power of the present moment and all the things that distract us from now
DJ Demers: Indistinct Chatter
Full disclosure, I'm lucky enough to be friends with DJ, but even if I weren't, this special would make it on my list.
DJ wears hearing aids, and this is the perfect introduction to how they affect his life, his comedy, and his outlook. His material about his disability is truly hilarious, but never comes off like a gimmick.
He's still relatively new on the scene, but he's already mastered having multiple punchlines for every setup, reminiscent of early Seinfeld. Every time you think the joke is over, he dives even deeper, adding four or five extra lines you didn't see coming.
He's delightfully dry and never pushes, letting the material do the work for him. His pacing is also incredible. Every time I see him, I marvel at how there's never a dead moment.
This guy is a huge inspiration and I highly recommend you check him out now so you can watch the rest of his career unfold in real time.
South Park: 6 Days To Air
I grew up watching South Park even though it was banned in our household. My mom (understandably) didn't approve of the lewd language and subject matter, but has that ever stopped a kid from watching something they love? Forbidden fruit tastes even better, and every time I slept over at a friend's house, we would watch as much as possible.
Growing up, the show just got better and better, and I am still so amazed by their genius satirical takes on current trends, 22 seasons down the road.
As a chronic procrastinator, I am a perfect example of Parkinson's Law: 'Work expands so as to fill the time available for its completion.' Imagine my delight in learning that every single episode is made in no more than six days, soup to nuts.
Working on The Book of Mormon, I got the chance to connect with Matt Stone and Trey Parker, and ended up consulting in the writer's room on Season 21 of South Park. It was the greatest masterclass I could ever have imagined. The confidence and the freedom to follow whatever made them laugh was seriously inspiring.
Personally, I got to see an example of a team who did things quite brilliantly at the last minute every single week. For them, that's just how they work, so they institutionalised their process.
Suddenly, I could give myself permission to harness without shame the last-minute creative energy that has always been my friend. I'm grateful to South Park for all they taught me in the room, and for fearlessly following the funny.
Mike Birbiglia
I could pick any project in Mike's whole career for this list. A master storyteller with an incredibly odd life, he allows his vulnerability to be the guiding force behind every comedic beat. For that reason he's probably my biggest comedic inspiration.
His 2016 film Don't Think Twice brought me right back to my improv days on the ComedySportz High School league. Improv was not only the best comedy and acting training I ever received, it flat-out taught me how to live a good life. We were taught to stop focusing so much on ourselves, and instead focus on listening, so we could make each other look like rockstars.
The film was a gut punch, exploring the moment when it's time to put the dream down and get on with your life. But it was also a profound reminder that failing to succeed commercially with your craft doesn't mean you should love it any less.
Mike's performances are always so personal - you really feel like you're getting to know him more and more with each special. It's more than a glimpse – he takes you with him while he navigates through his own life. Without relying on self-deprecation as a crutch, he manages to see the humour in his own failings, or more accurately, his own growth.
He's an expert at taking episodes of his often painful and awkward life and turning them into hysterical stories for our delight.
• AJ Holmes: Yeah, But Not Right Now is on at Underbelly Cowgate at 16:30 from August 1. Details.
Published: 27 Jul 2019
What do you think?