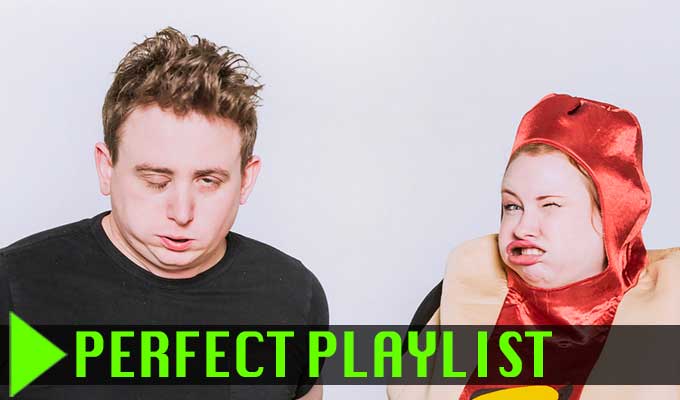 It's good to see attractive people be amazingly funny
The Man Who Eats Badgers
This documentary was part of the BBC's Wonderland series a few years back. It starts off looking at a man who finds, freezes and eats roadkill in the Bodmin Moor area.
When he starts getting anonymous calls, supposedly from the animals he's eaten (it's not referenced but he totally makes these calls himself)- it's not long before we're introduced to a plethora of strange men who live in the area. It's probably the most direct influence for our new show.
Burning Love
We often binge on this tasty spoof dating show. The cast is incredible, in particular June Diane Raphael who plays the lovable and terrifying Julie Gristlewhite. Her delivery is an absolute masterclass in comedy acting. It's good to see so many talented, attractive people be so amazingly funny. It is something we can really relate to.
Look Around You
It's the tone of this series that we love. Robert Popper and Peter Serafinowicz have created a masterpiece homage to the kind of programme your teacher would wheel a six-stone VHS player in your classroom to watch.
There is so much care and thought put into this that everything from the overarching ideas to the tiny flourishes in the editing, makes you laugh. And their faux naming of things is perfect. Did you know if you add sulphuric acid to iron you are left with 'Bumcivilian?'
Baked Potatoes, Shooting Stars
In our humble, stinking opinion - Shooting Stars still stands tall as the high watermark of alternative comedy light entertainment.
It started off in the mid-1990s at the height of Britpop which gave the earlier episodes the feeling of an out of control house party. This song in particular just looks like the most fun.
Videos of goats screaming like people
Sure, it's probably not the most sophisticated or nuanced choice but we can't fall asleep without it.
• The Delightful Sausage: Regeneration Game is on at Monkey Barrel at midday.
Published: 19 Aug 2018
What do you think?